A Kale veg-fruit smoothie for breakfast diet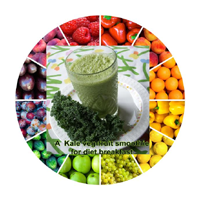 According to Terry Walters, nutrition expert and author of "Clean Food", your breakfast smoothie isn't very diet-friendly,if you're blending together a bunch of fruit and not much else, the resulting drink is high in calories and not particularly filling. And we've all heard that breakfast is the most important meal of the day, but it really is true says So to make your go-to smoothie a bit more nutritious, Walters has a simple solution: Throw in some vegetables. "Follow this rule when using a blender: For every fruit that goes in, add a vegetable," she says. For a breakfast smoothie that will keep you full until the afternoon, she suggests using frozen peaches, banana, and as much kale as you can squeeze into the container.

Kale is a super food that contains vitamins, antioxidants and cancer-fighting phytonutrients -- and it has tons of fiber, but only 36 calories per cup. This green leafy vegetable which belongs to the cabbage family is available in many countries and is called karam saag in Hindi and is more prevalent in the northerm parts of India. Blend it with rice milk, ice, and a spoonful of maple syrup and you are good to go for the day!