Shoes that fit Right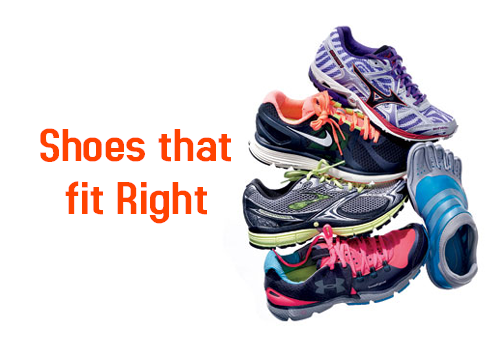 Choosing the right shoe for your work out can be real headache .If you are the running and jogging type you need to buy something that suits both and if you are into doing floor exercises you need to buy what suits the hard floor. Choosing the right shoe is very important to avoid any kind of damage to your feet and muscles.
Catherine Cheung, DPM, a podiatrist and foot surgeon with the Post Street Surgery Center in San Francisco, says runners land more on their forefoot while walkers have a heavier heel strike. "So for running," she says, "you want a shoe that has more cushioning on the forefoot, while walking shoes should have stiffer rubber to support the heel."
Now the latest fad is to buy a good cross-trainer shoe which will allow you to do the treadmill, walk on the hard road and some light jogging," Kathleen Stone, DPM, President of the American Podiatric Medical Association, says. To choose a good cross-trainer, you should look for:
• Good support -you shouldn't be able to bend the shoe too easily
• Light weight -you don't want to add a lot of weight to your feet
But if you are going to participate in a particular sport on a regular basis you should choose a specific shoe as they give the right support for the activity you engage in like running, trekking, marathons, gym floors.