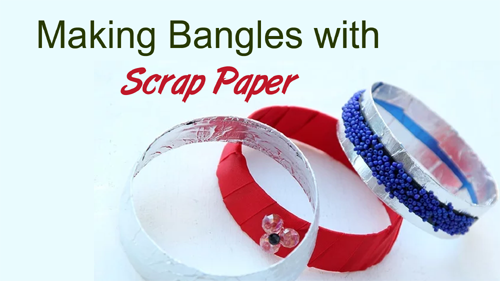 Components :
1. Scrapbook paper.
2. Newspaper.
3. Glue.
4. a soda can.
5. Paint brush.
6. Scissors or paper trimmer.
Making :
Step 1 – Cut paper
Decide on the height of the bracelet. The one shown above is 3/4 inches tall.
Using scissors or a paper trimmer, cut long strips of newspaper 3/4 inches wide.
Cut 2 strips of scrapbook paper 3/4 wide and long enough to fit around the soda can with at least an inch or 2 inches of overlap.
I wanted a contrasting color band on the outside of the bracelet, so I also cut several long strips of newspaper 1/2 inches wide. Then cut 1 strip of the the contrasting scrapbook paper 1/2 wide and long enough to fit around the can with some overlap.
Step 2 – Glue the inside of the bracelet
Pick up the scrapbook piece that will line the inside of the bracelet. Place it so that the pattern faces the soda can.
Start wrapping and add glue where the strip overlaps. (Be careful not to get glue on the can.)
Step 3 – Glue the middle layers of the bracelet
Apply glue to a newspaper strip and start wrap it around the bracelet. Start where the last paper strip ended.
Once you've glued several layers on, you may want to remove the paper from the can and keep wrapping. (The soda can's a little heavy, and once you've gotten the initial shape of the bracelet, it's easier to wrap the paper without having the can in the middle.)
Continue doing this until the layers of paper are about 1/8 inch thick.
Step 4 – Glue scrapbook paper to the the outside of the bracelet
Glue the 3/4 inch thick scrapbook strip around the outside of the bracelet.
Step 5 – Add the contrasting color band to the outside
Glue a couple strips of the narrower (1/2 inch) newspaper around the outside of the bracelet so that it centered.
Then glue the narrower scrapbook paper on.
Step 6 – Dry
Coat the inside and outside of the bracelet with a sealant such as ModPodge.
Let dry completely for about 24-48 hours.

Step 7 – Decorate
If you want to add some bling, glue on the rhinestones.
For a more finished look, sand the top and bottom edges. Paint edges with gold paint.
Finished !
Get creative and make lots of other types of bracelets!
You can use all types of decorative paper to make these bracelets. Experiment with different heights and different thicknesses.
If you don't want to use scrapbooking paper, try using just newspaper and painting the bracelet when it's dry.
You can also experiment with wrapping string or yarn around the outside of the bracelet to add your own style.