Permanent Marker Fabric Fixes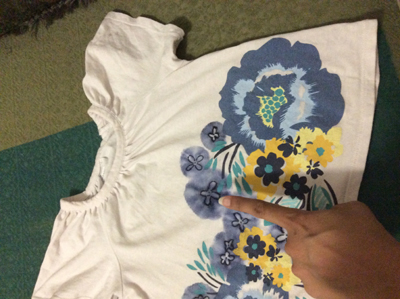 Ladies....here is one interesting solution to save your TShirts or your regular PJs....the Permanent marker craft ! Your maid washed it wrong or your Washing machine did it....there is one way to give your dresses a second chance.....get a permanent marker of your color choice and fix the bug. Or if you have a plain light colored T-shirt, dress it up with a new design. I just restored my child's favorite tshirt. It is white and had few odd stains to spoil. This trick made me proud and my child happy !!
We need:
* Linen of your choice, (old or new, TShirt or a Skirt)
* Permanent Markers of your color choice
* Rubbing Alcohol ( Isopropyl Alcohol) bottle
* Empty and clean Ink Filler ( Or a kid's medicine dispenser)
* A baking sheet or a Tray
We need a washed fabric that is free of Fabric softeneror Starch. Slide the tray or baking sheet under the top layer of the tshirt or anyother fabric to avoid the color from blotting. If you have a spot to fix or a design to create on an empty tshirt, then using the permanent marker of your choice, draw a design. Fill isopropyl alcohol into an ink dispenser and pour drops of it onto the design. As the liquid spreads on the fabric, it bleeds along the color and design, creating an interesting pattern.
Once the fabric is dry, move it to another area and follow the same steps.. Let the fabric dry completely and iron it on the other side, covering it with a wax paper. This step is to seal the ink, otherwise the color will fade on washing. After ironing, wash the fabric gently with hands and let dry. Flaunt your fabric or the dress with your permanent marker handmade design on it !!!
Prathyusha Talluri