Different Types of Handbags and Purses
types of handbags styles, types of handbags pictures,types woman bags, lady bags types: Different types of handbags available in virtually innumerable designs and colours, creating, rather than waiting, even more of cravings (to own different styles for different moods and occasions) among the bag holders.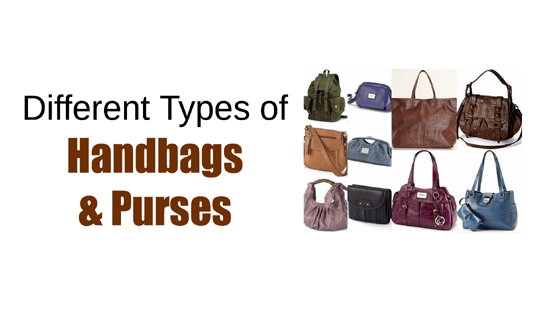 * Hand Bag
As the name suggests, a hand bag is to be carried in a hand rather than slinging it across the shoulder which makes it slightly less preferable to the women, for obvious reason – need a hand to hold on to the bag, leaving you a little tied up. Still, a hand bag, by all means is one among the most preferred of handbags. Available in elegantly brilliant designs, hand bags go best with formals and semi-formals and good to go for a short travel.
* Cosmetic Bag
The name says it all. Available in different shapes and sizes, a cosmetic bag is meticulously designed, allowing you to carry all your cosmetics without the fear of spillage or damage. However, carrying anything other than cosmetics (except say a cell phone or a comb and mirror), isn't what it is made for. Looks best with semi-formals and casuals.
* Duffle Bag
A duffle bag is the biggest of all the handbags and the drawstring opening at the top allows for accommodation of a whole lot of stuff inside it. It is generally used by women for long travel or by sportswomen.
* Beach Bag
A beach bag, contrary to what the name suggests, isn't just meant to carry to beach; it can be held on to while on to a picnic, gym, or a casual stroll to anywhere. These colourful beach bags, ideally made of cloth or jute and straw, sometimes, are also provided with a plastic sheen that protects them from moisture. Available in many exquisite designs, beach bags go fantastically well with vibrant casual attire.
* Tote Bag
A tote is an oversized bag best suited for short travel or grocery shopping. Made of soft fabrics, a tote bag also has an adjustable strap that can be set according to your own length. In this age when plastic bags are a big no-no, tote bags are a welcome change. Not only can they accommodateyou while shopping, they add to the style statement as well, proving their utmost worth.