Lucknow Chikankari Dresses for Cool Kids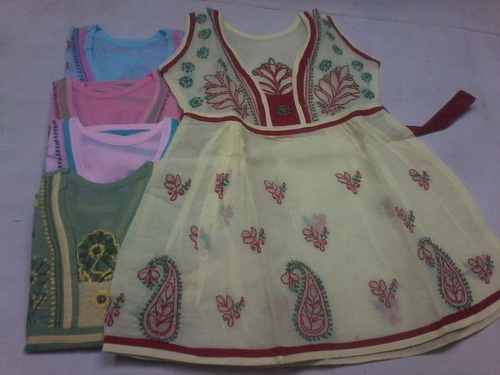 Summer has been harsh this time, but we cannot escape the heat..how to keep the kids cool, how to dress them up for indoors and outdoor fun...is the question for all parents, every summer, during their vacation time. While the kids are home for more than a month, wearing the wrong dresses could make them feel the heat and sweat alot when playing too..Well, then think of the Super Cottony Chikankari dresses again..you should be gathering a few pieces for each kid during the Industrial Exhibition that happens every year during winter. Chikankari origins from Lucknow and has become so famous across India and Abroad too. The cool cotton fabric, intricate thread work makes me so nostalgic, reminding me of those early 80s and childhood days.
Chikankari has been a trend ever since its origin. Not just cotton, it dresses up every other light material like Silk, Chiffon and the Georgette. Everyone in the family gets to cherish the flamboyance of Chikankari with dresses made for every age group. Those made in Cottons span a longer life, getting passed onto siblings and atleast one next generation. When Mom or Dad pair up with their little Girl and Boy, they all look super cute in these Chikankari dresses. Sarees and Dresses embroidered for Mom, kurta-pyjamas and Dhotis embroidered for Dad, along with the cutest Frocks, Lehengas and little Salwar suits for little girls, those cute cute Kurta-pyjamas for little guys offer a wide selection to satisfy all.
Maintainance was easy with light colors but with brighter and multi-colored patters appearing more in the market, washing them has become a trick. Hand washing is suggested for the bright and dark colored ones..pure cotton is the simplest, but the mixed-fabrics are creating bobbles and need a little more care. Price ranges from the most expected affordable to even the pricy numbers.
Still, thinking twice before you grab one for you or your child is not necessary... chikankari is a pride to wear and flaunt ! Due to macbine-made fabrics and embroideries dominating the market, this amazing original hand-made treasure is loosing its life, speedily and pleads demand...lives of talented workers who depend of this art await better days. It is so necessary that we all think of appraising such lives and caring for their needs by opting for their works. Think of buying Chikankari dresses this time you shop for your wardrobe or your child's.
- Prathyusha