Fight cellulite with Fat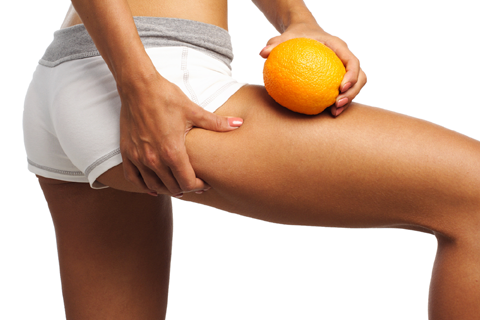 Cellulite - a bane for any woman and which affects close to 90% of the woman worldwide is basically a term used to describe the crinkled and uneven appearance of skin caused by fat deposits below the skin. Although scientists don't know exactly what causes it, it's believed to be related to the body's inability to get rid of toxins, fat and fluid which become trapped under the skin and cause fibrous tissue to become hard, which is responsible for producing the dreaded dimpling effect. There are various methods for improving the skin like massages, exercises, drinking lots of water ,expensive creams and visits to the doctor- but there is one new tip to fight cellulite i.e., with fat! Yes, it's true !
Studies in science show that eating fat could help with reducing cellulite. But not just any fat - a special kind of fatty acid known as CLA (conjugated linoleic acid) that's found in beef. In a study conducted in Beverly Hills, California (and published in the Advances in Therapy Journal by Dr Lawrence Birnbaum) 60 females were given CLA for 60 days and 'in as many as 75% of the women, the appearance of the skin improved significantly, and thigh circumference was reduced by an average of 0.88 inch.' Now if you are a vegetarian not to worry you get these in a capsule form which are tad bit expensive to procure and buy.