Brass Vase into a Jute Side Table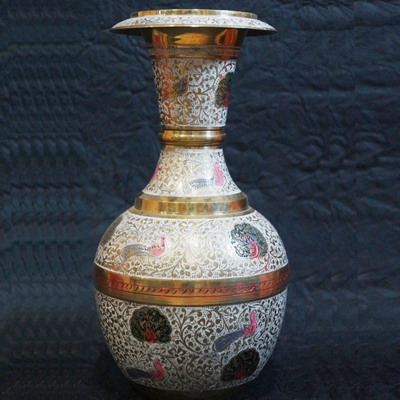 Some of us still have atleast one or two brass vases at home, either lying in the attic or standing in a corner, not matching the decor in an old fashioned style. I brought home this huge tall vase from my Mom's, thinking it would match my decor but to my surprise, it ddnt match atall, sametime, it started looking so odd...i watched it every day thinking of a reason to get rid of it...and you know, one day i thought of giving it a new avatar! I had a big fat roll of jute twine lying at home..and Lo, this was the final outcome, a side table cum pot stand for my indoor plants !!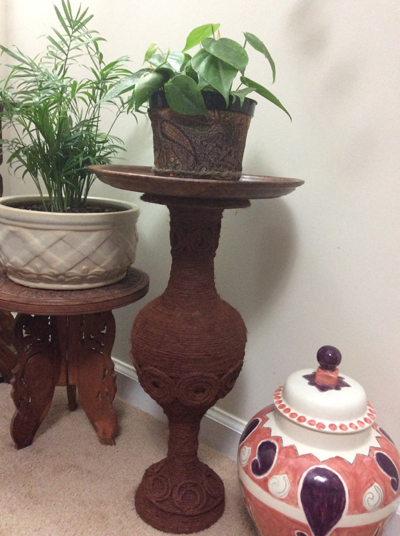 We need:
An old metal vase
A big roll of jute or any natural finer twine
Hot glue gun
15-20 Glue sticks based on the size of the vase
Acrylic color in desired shade
A wide painting brush and a Sponge dabber
Wooden plate
m-Seal
Procedure:
Wipe clean the surface of the vase. Let dry of any dampness. With streaks of hot glue, start pasting the jute twine layer above layer. I made circular design patterns with jute twine and pasted them at the bottom and center of the vase to give it an interesting look. You can just keep the simple line-by-line look if making separate circular patterns is time taking for you.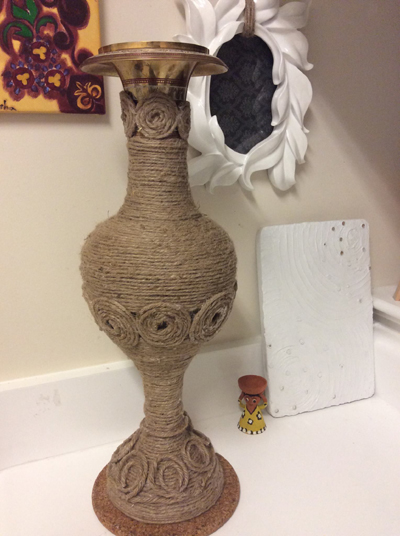 This takes few hours or coupele of days time to finish covering the vase with the twine completely. If you want to keep it jute color as-is, then you don't have to color it. I wanted a dark wooden finish to match the other corner tables i already have, so i bought a Terracota Brown shade Acrylic color and painted it completely brown. Using m-Seal, attach the Wooden plate to the top of the vase, as a table top. Give it a day, for the paint and the wooden plate to fix and dry. The most awaited, side table cum pot stand is finally ready for display and use, Mine flaunted itselves with a cute plant on top...
..Prathyusha