Vanilla Pressure Cooker Cake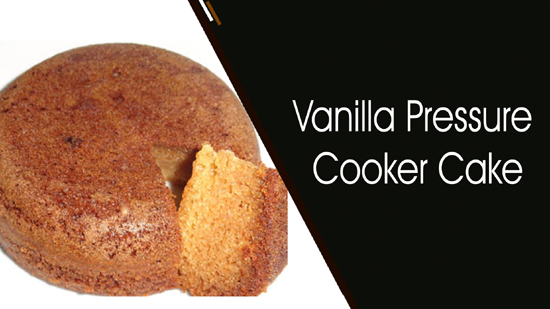 Ingredients:
All Purpose Flour - 150 gms
Butter - 50 gms
Sugar - 100 gms
Milk - 100 ml
Egg - 2
Baking powder - ½ tblspn
Baking Soda - ¼ tblspn
Vanilla Essence - ½ tblspn
Method:
* Grease the cake pan with butter or oil and set aside.
* Take the pressure cooker and place a separator on the bottom.
* Pre-heat the pressure cooker on stove on medium heat. Do not cover it with a lid.
* Break the eggs in a mixing bowl. Add sugar, butter, vanilla essence and whisk nicely till the butter and sugar dissolves without any lumps.
* Add the milk. Add the flour, baking powder and baking Soda and gently fold and make a smooth batter.
* Pour this batter into the greased cake pan. Carefully place it into the pressure cooker.
* Remove the gasket and whistle. Cover it and simmer the heat. Cook on a low heat for 40 to 45 mins.
* To check if the cake is cooked to perfection insert a toothpick if it comes out clean then the cake is done, otherwise cook it for another 5 mins.
* Turn off the heat, remove the lid and let the cake be in the cooker for 5 mins.
* Remove it from the cooker carefully and let it cool down completely before inverting it. Then slice and serve.
..Divya