Badusha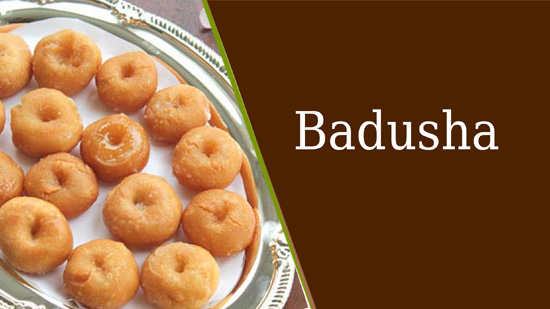 Ingredients.
Flour(maida) - 250 grams
Ghee - 80 grams to mix with flour
Baking soda - 1/2 tsp
Curd - 100gm
Sugar - 250 grams
Ghee
Method:-
Mix curd,ghee and soda together ,now add flour in batches . It will become an extreme soft dough.
Make lemon size balls from dough, make a hole in balls. With this ratio you will have 13-14 balls.
Now take ghee in a pan, put 4 balls in it. Please note ghee is completely at room temperature. Cover the pan with lid. Turn on the flame and keep it simmer.
After 3-4 mints, remove the lid . You can see badusha will be almost double in size. turn the Badusha very carefully to get cooked on other side as well.again cover the lid.
After 2-3 mins remove the cover and turn the Badusha. Repeat the process for rest of the Badusha.
Now mix 1.5cup of water in sugar and keep on the flame. Once sugar dissolves turn off the flame.
Now with the help of tablespoon, pour sugar syrup on Badusha. Repeat the process 2 times n keep turning.
Badusha up and down. Please note we don't have to dip badusha in syrup.
Collect the syrup which left out during this process and mix it with remaining syrup.
Now keep the remaining syrup on flame and let it become of one thread consistency , add the Badusha in this and keep turning continuously till sugar start solidifying.
Now take all the balusahi in a plate, garnish with pistachios and serve it.
-Divya