Andhra Spicy Mutton Curry Recipe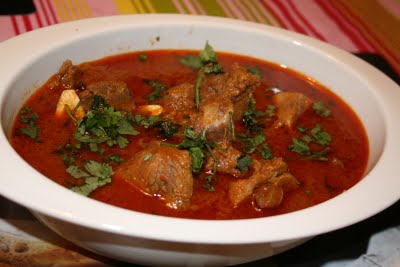 Ingredients:
600 gms Mutton
2 Onion( finely chopped)
3 Tomato (finely chopped)
6- 7 Curry Leaves
2 tsp Turmeric Powder
4 tbsp Oil
1 ½ tbsp Ginger & Garlic Paste
¼ tsp Cumin Seeds( Jeera )
Coriander Leaves for garnishing
Masala To grind :
3 Cloves
1 Cinnamon
1 Bay Leaves
1/2 tsp Cumin seeds
1/4 cup Coconut (shredded)
1 tbsp Coriander Powder
1/4 cup Onion (Sliced)
4 -5 Whole Red Chilies
½ Whole Black pepper
3 Cardamom
½ cup Coriander Leaves
½ tsp Fennel Seeds
How to make Andhra Spicy Mutton Curry:
Cook in the pressure pan by adding 1 cup of water, cumin seeds, salt and turmeric powder for about four to five whistles.
Remove it and separate the water and mutton.
In a pan fry the ingredients ( cinnamon, cardamom, cloves, bay leaves, cumin seeds, whole black pepper, red chili, and fennel seeds ).
Once it is cooled grind it into fine powder. And set it aside.
In the same pan fry onions till it becomes brown. Add them to the ground mixture.
Add the rest of the ingredients (coriander leaves, coconut, and coriander powder).
Grind it into a smooth paste.
Take a large pan add oil and onions and other things, and fry them till it becomes transparent.
Add ginger garlic paste and fry it for few minutes, add mutton and deep fry them all together for about 3-4 minutes.
Add the chopped tomatoes , salt, turmeric powder and the curry leaves. Cook them in heat for about 3-4 minutes in a low heat.
Add the ground mixture and some water , stir them all together and allow it to settle in heat for about 5 -10 minutes.
Garnish it with coriander leaves and lemon juice.