Spicy Brinjal Gravy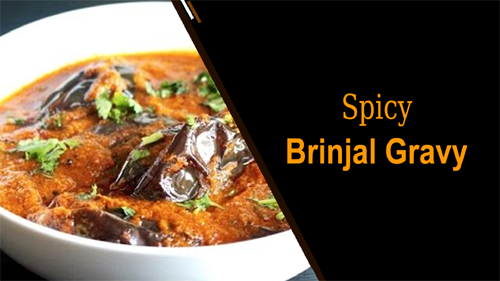 Its very smooth and good taste....
I remember my childhood days, when my father used to go to market and my mom used to say don't bring Vankaylu this time. She would warn him before, but at last, they used to be there in the bag.
Ingredients for Spicy Brinjal Gravy

Brinjal - 250 gms or 8 to 10
Coconut - 1/2 cup shredded
Chopped onion - 1 cup
Red chilli powder - 1 teaspoon
Salt to taste Coriander seeds - 1 teaspoon
Cloves - 1/ 4 teaspoon
Black pepper - 1/4 teaspoon
Vegetable oil - 4 table spoons
Cilantro - To garnish
Preparation:-
Split each brinjal vertically in to four parts ( but not completely ) and put them in salt water. Roast coriander seeds, black pepper and cloves on saute pan with 1/2 teaspoon oil. Grind above roasted ingredients in to fine powder. Add coconut, onion, red chilli powder and salt and grind it in to paste. In a medium size pan heat 2 table spoons oil. Add above prepared paste and fry for 2 minutes. Turn off the flame. Heat 2 table spoons of oil in a wide bowl over medium flame. Add brinjal and fry them on low flame stirring constantly until they become soft. Turn off the flame. Stuff the brinjals with above prepared paste. Garnish with cilantro. Depending on your taste adjust salt and chilli powder to make wonderful Spice Brinjal Gravy orBrinjal Curry. Serve with rice Spice Brinjal Gravy , chapathi or javar roti.
Note:- Cook on medium heat only. The Spice Brinjal Gravy or Brinjal Curry should be little bit thick.