Parfaits for Busy Mornings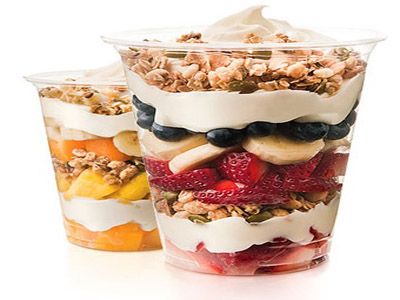 Fruit Parfaits (Parfays) are one attractive means of serving healthy fruits and yoghurt to anyone...to the kids, these could be replacement to icecream or milkshake....keep aside thise boring breakfast or evening snack ideas and adopt this....you may end up making one for your own self too !!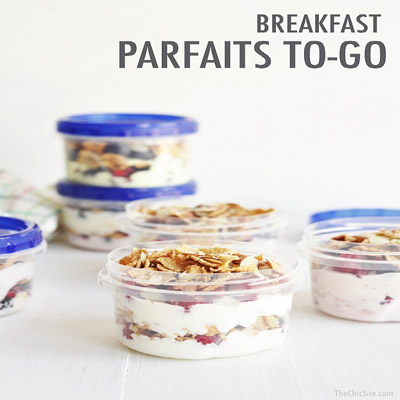 Gather these:
* Oats granola
* Multigrain cereal ( Os make it better)
* Yoghurt
* Fruits (chopped in small cubes of Strawberries, Raspberries, Bananas, Oranges, Grapes, Apples, Pear)
* Honey
* Dry fruits ( Cranberries, black raisins, almonds, walnuts)
* Chia or Flax seeds
Directions:
Take a transparent BPA free plastic or glass cup
Drop in one tbsp of honey at the bottom
Then some fruit cubes
Top it with one tbsp of yoghurt
Then few cubes of another fruit and 1tbsp of granola
sprinkle 1/2 tbsp of chia seeds or 1tbsp of flax seeds ( this serves a day's requirement of Omega-3 for children) Cover them with one tbsp of yoghurt Top it with our child's favorite dry fruit, multigrain Os and few pieces of fruit Then drizzle some honey.
If all the items are ready, this is easy and quick to prepare. You can experiment with the steps in your own way for a customised taste.
Your child will like this. Let them not know that it has yoghurt ( some maynot like the idea of yoghurt with fruits).
This parfait (called Parfay) serves as a wonderful breakfast item for those super busy mornings. It looks like an icecream or a milkshake, so there are all chances the kids might like it...i am not an expert in predicting your child's response but no harm in giving it a try!! You can even pack these for breakfast-on-the-go, your kids can eat them while you drive to school or you can when you rush outdoors with the family on a busy weekend morning, either !!
…...Prathyusha Talluri