Paneer Tikka
(Starter)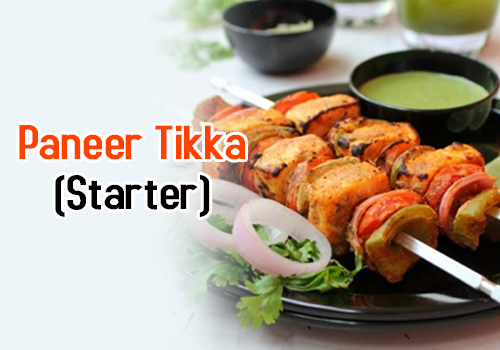 Ingredients:
* 2 full cups of frozen paneer
* ⅛ tsp ajwain (carom seeds)
* ½ tsp red chili powder
* 1 tsp garam masala
* Pinch of amchur powder
* Generous pinch of pepper powder
* ¼ tsp. Kasuri methi crushed
* 1 tsp ginger garlic paste
* Salt to taste
* Pinch of turmeric
* 1 ½ tbsp. Coarse besan (Gram floor)
* 1 tbsp Oil
Method:
* Add paneer, red chilli powder, kasuri methi, ajwain, garam masala, salt, amchur powder, ginger garlic paste and besan to a bowl.
* Sprinkle very little water and toss to coat the paneer well with this masala.
* Heat oil in a pan. Add the paneer and begin to roast them well.
* cubes may stick to each other, you will have to seperate them gently while sauteing. Do not over cook. When the raw smell of the besan goes away. Switch off and move to a plate. Garnish with coriander leaves and onion wedges. Skew them or put them on to picks. Serve warm or hot. Do not leave them in the pan else they may turn rubbery.
--Pushpa