Onion Masala Vada Recipe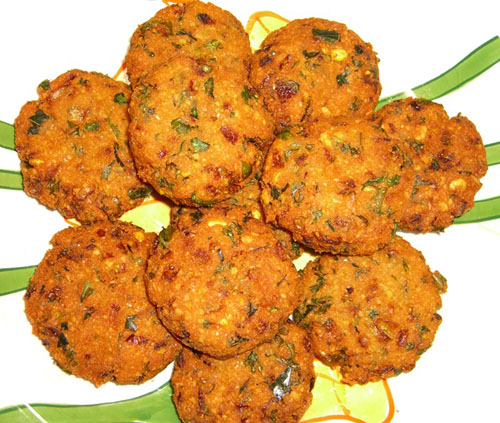 Ingredients
* 1 cup chana dal - gram dal
* 1 cup finely chopped onion
* 1 tea spoon crushed garlic
* 5 to 6 green chillies finely chopped
* 1/2 tea spoon crushed ginger
* 1 table spoon mint leaves freshly chopped
* 2 to 3 table spoon chopped coriander leaves
* 1 pinch asafoetida
* Oil for frying
* Salt to taste
Preparation
* Wash and soak chana dal for 1 hour in lukewarm water.
* Crush it coarsely with little water and add spices to it.
* Now add ginger, garlic paste and mint and coriander leaves.
* Mix well and beat for 2 to 3 minutes.
* Heat oil in a pan and drop a spoon full mixture to it. Fry till light brown at medium flame.
* When ready drain over absorbent kitchen tissue.
* You can fry 8 to 10 vadas at a time. Repeat the same for remaining.
* Serve hot and yummy Onion Masala Wada with tomato ketch up and green chutney.