Meal maker Manchuria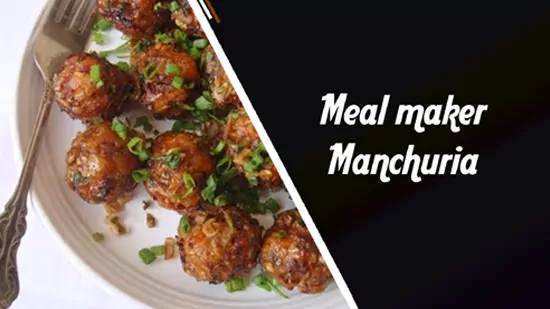 Ingredient
Ajinamotto - 1 pinch
Corn flour - 5 tbsp
Garlic - few number
Ginger- smallpiece
Green chilli -few number
Maida - 3 tbsp
Meal maker - 100 grms
Oil - to fry
Onions - number
Salt - to taste
Soya sauce - 3 tbsp
Sugar 1 tbsp
Tamato sauce - 2 tbsp
Directions :
First put the soya chunks in hot water...after 10 mins remove them and squeeze all the water.
In a small bowl put 2 tbsp maida,2 tbsp corn flour,ginger garlic cut into small pieces, green chilli small pieces, soya sauce 1 tbsp ,salt and water and mix the batter like pakodi batter.
Now add soya chunks into the batter and mix well until all the chunks gets coated well.
Heat the oil and put the chunks in the oil and deep fry them.
Now in another pan put 2 spoons oil add ginger garlic pieces, chilli pieces, onions(sliced).
After onions are fried add tamato sauce, sya sauce and salt to taste. now add the fried soya chunks and saute them .
Now add sugar and mix well.now mix corn flour in the water and pour it in the pan... put the lid and let it cook for 2 mins.
Remove the manchurian from the pan and serve it.