Lamb Roast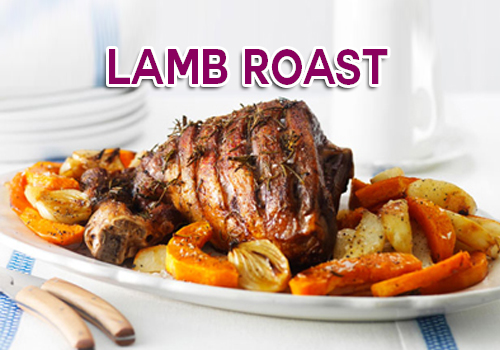 Ingredients :
Take apprx 1 kg lamb chops... smaller lamb chops are preferable..
Curd - 1 cup
Red chilli powder 2 tsp
Turmeric powder - 1 tsp
Salt acc to taste
Ginger Garlic Paste - 3 table spoons
Tomatoes - 2 chopped
Coriander powder - 1 tsp
Onions - 2 medium sized
Jeera - 1 tsp
Cinnamon - 1 small stick
Cloves - 4
Green cardamoms - 2
Preparation:
Wash n drain the lamb chops.. Marinate in ginger paste , salt, curd, 1 tsp red chilli powder,,coriander and turmeric powders,...mix well n keep aside for 1 to 2 hours. If you want to cook after some time more than 2 hours then you can keep marinated chops in fridge. Now take a copper vessel... heat oil... Add jeera, cinnamon, cloves, green cardamomsthen add onions n ginger garlic paste saute all this on a slow flame. After 15 minutes add chops n cook with lid to seal all flavours. After half an hour add 1 tsp red chilli powder and tomatoes mix well.. put lid back on and let it cook on a slow flame for an hour or until it dries off. It will cook perfectly..garnish with coriander leaves
Happy cooking..
Raja Kumari.A