Healthy Oats Cranberry Chikki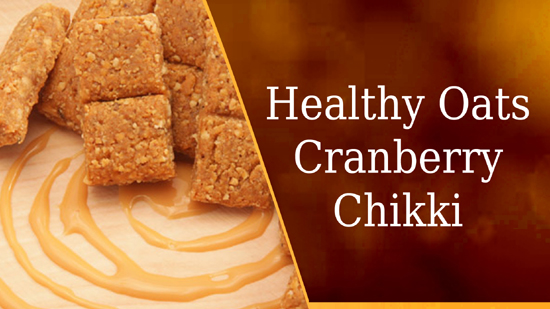 Ingredients:
1cups Oats
2 tsp Pumpkin Seeds
2 tsp cup Sunflower Seeds
2 tsp cup Sesame Seeds
1/4cup Almonds
1 tbsp Cranberries
1 tbsp Raisins
1/4 cup desiccated Coconut
1/2 tbsp Clarified butter
1/4 cup Honey
1 tbsp Jaggery (grated)
Method:
First heat a heavy bottom nonstick pan. Now add the oats and dry roast them on medium to low flame for 3-4 min. Keep stirring to prevent burning. Once it turns to golden brown color off the flame and keep it aside and let it cool completely. In the same pan add little ghee and roast the chopped nuts and seed on a low flame, and then add raisins, cranberries and fry for 1-2 min and switch off the flame. Keep it aside. Also dry roast desiccated coconut, after that mix all the ingredients well. Heat 1 tsp ghee, add the jaggery let it melt. Then add honey Cook in low flame while stirring continuously. Switch off the gas. Add Roasted oats, nuts and seed mixture and mix well. Pour the mixture into the grease plate. lightly press the mixture evenly onto the plate. Let it cool down for 1 to 2 hours before cutting into squares. Serve at room temperature. You can also store them in an airtight container.