Fruit Kesari Sweet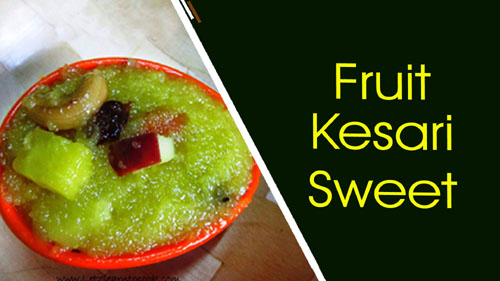 we normally have this fruit kesari in south indian wedding menus . what is more interesting in this is the fruity flavor that comes in the a normal kesari. We can use seasonal fruits or whatever you have. avoid citrus fruits and melons though. here we used apple, pear, pineapple, banana and pomegranate.
we can have less ghee and sugar in this than what is generally added to kesari. because the fruits do contribute their own sweetness to the kesari and thus there is no need to add more sugar. we are using about 1.75 cups of mixed fruits in this recipe.
Ingredients :
1. ½ cup fine rava/sooji/ cream of wheat
2. 1 tsp ghee for roasting sooji
3. 4 to 5 tbsp ghee or 2 tbsp ghee + 2 tbsp oil or 4 tbsp oil (use a 4. neutral flavored oil)
5. 12 to 15 cashews and raisins
6. ½ cup chopped apple or 1 small apple, chopped
7. ½ cup chopped pear or 1 small pear, chopped
8. ½ cup chopped pineapple
9. ⅓ cup chopped banana
10. ¼ cup pomegranate
11. ½ tsp cardamom powder
12. a generous pinch of saffron strands
13. 6 tbsp sugar or about ⅓ cup sugar
14. 1.5 cups water
Method :
1. heat 1 tsp ghee in a thick bottomed kadai or pan.
2. add ½ cup fine rava (sooji). stir very well.roast well on low flame
3. roast till the rava become fragrant and look crisp. takes about 5 to 7 minutes on a low flame. switch off the flame keep aside .
4. now rinse, peel and chop 1 small apple, 1 small pear, 1 small banana ( i used elaichi banana) and 2 to 3 pineapple slices.
remove the pomegranate seeds from a small pomegranate. pomegranate is optional. you can also use your choice of fruits. mangoes and chickoo (sapota) also tastes good.
5. heat 4 to 5 tbsp ghee in the same pan. add 12 to 15 cashews.
6. fry the cashews in ghee till golden. then remove them with a slotted spoon and keep aside.
7. next add 1 tbsp raisins. as soon as you add the raisins they will start to swell up.
8. stir and fry the raisins till they swell and become plump. remove and keep aside.
9. next add the chopped mixed fruits. stir very well.
10. saute the fruits on a low to medium flame for 3 to 4 minutes.
11. add ½ tsp cardamom powder and a generous pinch of saffron strands. stir.
12. now add 6 tbsp sugar or about ⅓ cup sugar. you can add sugar as per your taste.(a little less as we have lot of fruit sweetness)
13. add 1.5 cups water. stir very well.
14. bring this mixture to a vigorous boil on a medium flame.
15. now lower the flame and add the ghee roasted rava. you can also add the rava in parts.
16. as soon as you add the rava, quickly stir and mix very well. there should be no lumps in the halwa.
17. add the fried cashews and raisins. reserve a few for garnish. allow for the water to be absorbed by the rava.
18. do stir at intervals. the rava will soften up. you should not see any whitish or creamish tiny specks on the rava. this means that the rava is not cooked well.
19. here the fruit kesari is done and ready to be served. if you want to slice fruit kesari like barfi or serve them like i have done, then pour the hot mixture in a tray or in small to medium tart moulds or small bowls. press with a spatula to even. once warm, slice them or unmold them.
20. serve fruit kesari garnished with the fried cashews and raisins.
--Pushpa