Dosa Special
Spinach Dosa
Ingredients :
Besan / Gram Flour - 1 cup
Wheat flour - 1 cup
Spinach. puree - 1/2 cup
Curried Green chillies - 3/4 tsp
Salt to taste
Oil for cooking
How to make :
Wash and drain the spinach leaves. Blanch the spinach leaves for 4 mins in microwave. Once cooled, puree the spinach leaves to a smooth paste. In a bowl, sieve the flours together, add the salt, curried green chilli paste and the spinach puree. Mix well to get a lump less batter. Slowly add enough water to get a thin batter. Heat the tawa and grease with oil. Reduce to medium, pour a ladleful of batter and spread as regular dosa. Sprinkle oil on top and cook on medium heat.
***
Sorakaya Dosa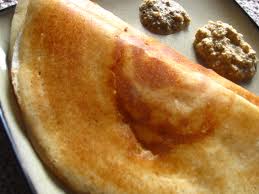 Ingredients :
Raw Rice - 1 cup
Boiled rice - 1 cup
Bengal, Urad, Toor - 1 cup
Dry Red chilis - 4 -5
Sorakkaya - 2 cups
Salt to taste
How to make:
Wash and soak all the lentil for 3 hrs. Then grind with dry red chilies. Once ground to a smooth paste, add grated bottle gourd and run once for it to mix well.Then remove and add cumin seeds and Hing. Heat a tawa, grease with oil. Scoop a ladle of the batter and spread as you will do with a regular dosa.
***
Wheat Flour Urad dal Dosa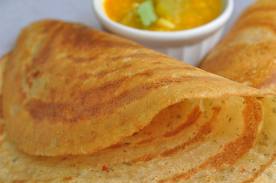 Ingredients:
Whole Wheat Flour - 2 cups
Urad dal - 1/4 cup
Salt to taste
Oil few drops
How to make :
Best way to prepare this is when you grind your idli batter. Even otherwise soak the urad dal as you would for Idli for about 4 hrs. Grind in a grinder/mixer with just enough water.Mix the wheat flour in 1 cup of water and add to the urad dal. Run it for couple of times for getting a mixed batter. Add salt and mix well.