Dahi Idli Recipe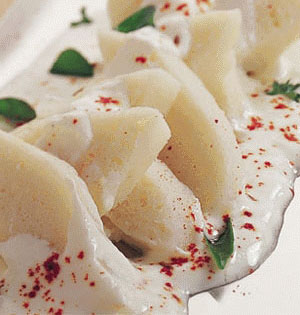 Ingredients
* 8 idlies
* 2 cup whisked curd
* 1 tea spoon mustard seeds
* 2 whole dry red chilli
* 8 to 10 curry leaves
* 1 tea spoon oil
* Salt to taste
Preparation
* Add salt into curd, whisk properly. Keep aside.
* Cut idlies in to medium pieces. Take some salted water and soak idli pieces in it for minimum 2 to3 minutes.
* Drain and cook in microwave for 1 minute covered.
* In small pan heat oil and add mustard seeds to it, when it crackles add curry leaves and whole red chillies to it. (cut it in 3 to 4 pieces.)
* Pour it over whisked curd and mix well.
* In a serving plate or bowl arrange idli pieces first and then pour curd mixture over it. Spread properly to cover idli pieces.
* Garnish with coriander leaves, red chilli powder,nylon sev, masala bundi and cumin powder.
* Repeat the same for remaining plates.
* Serve yummy Dahi Idli immediately.