Book Reading in Kids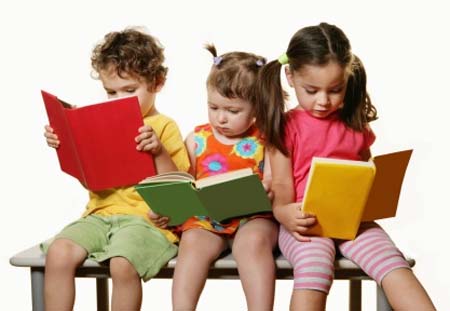 Currently we are in technology era where everything is just a click away. Television, computer games, Internet, phone… these occupy more space in our entertainment world.
Most of the kids stopped going to play grounds, reading books, watching a play at theatre. If we lead our future generations in to such world, we have to show them how books used to influence our lives and how much it used to matter to us "to hold a book in hand and read, indulge in to it and enjoy it to the fullest".

Don't you want your child also enjoy such beautiful things in life? If yes, it's time for you all to introduce books to them and help them to develop their own library.

For this, parents need to do little home work and get information on the books which are suitable to your child's age. If you identify that book, try to gift them on the occasions like their birthday, children's day, festivals, New Year so on so forth.
You will find so many occasions if you are willing to do so.
Remember, never allow kids to stick on to the e-books, as they might shift their focus to something else while.

Try to introduce some story books to kids; ask them to spend some time on book reading by taking small intervals while playing computer games, watching TV and busy with Mobile games.
You may have to convince them to make a deal on this but, trust me it's worth doing so. Slowly started habit of Book reading can definitely mould your child in to a calm personality, helps to improve listening skills and patience.
Slowly, they themselves take off and demand for more books to fill their book rack. Enjoy! Happy Parenting!!!
M.S. Bhavana