Snake Gourd(Potlakaya) Curd Chutney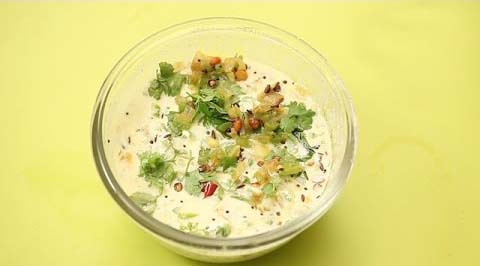 Snakegourd is sauteed in a seasoning of curry leaves, green chillies, ginger and mustard seeds before combining with beaten curd and hints of green chillies and coriander leaves. It goes really well with white rice.
Ingredients :
2 medium sized snakegourd
2 cups of curd
3 to 4 green chillies
2 garlic cloves
4 to 5 curry leaves
1/2tbsp of mustard seeds
a pinch of tumeric powder
coriander leaves
Method :
Cut the snakegourd into small pieces and allow them to cook in a bowl with sufficient water. After they are cooked allow them to cool and squeeze the water from the snakegourd pieces with the help of hands.keep it aside. Make a paste of the green chillies,garlic cloves and curry leaves. Now take 2 tbsps of oil in a pan , add mustard seeds and allow it to splutter. Then add the paste which we have made earlier and also add some tumeric powder. Add this seasoning tothe snakegourd pieces. After then add the curd and salt as per the taste. Finally garnish with coriander leaves. Tastes great with rice.