Palakura Roti Pachadi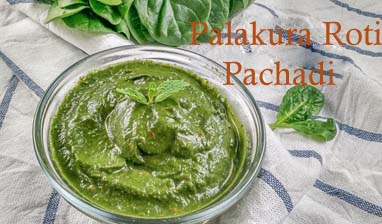 It was easy to make and very delicious to taste recipe with spinach.We all make daals,curries,parathas ,rice dishes and nutritious smoothies etc. with spinach/palak.The options are endless with this greens and it is a very common leafy vegetable known to people around the world.
Ingredients :
grated palakura: 1
bowl red chillies: 4
minapa pappu: 1 tsp
mustard seeds: 1 tsp
inguva:
tamarind: little
garlic flakes: 6
grated coconut: 1/2 cup
oil: 1 tsp
salt
for popu:
oil: 2 tsp
red chillies: 1
mustard seeds: 1/4 tsp
cumin seeds 1/4 tsp
urad dal: 1/2tsp
chann dal: 1/2 tsp
curry leaves
Method :
Heat oil in a pan and add grated palakura and fry for 10 mts with low flame and keep aside.
heat one tsp oil and fry, red chillies, minapa pappu, inguva, mustard seeds, salt and tamarind, for 2 mts and make powder by using a grinder add palakura, grated coconut and garlic flakes and grind for one more minute for mixing.
for thalimpu:
heat oil in a pan and add red chilli, mustard seeds, cumin seeds and let them flutter and add chana dal, urad dal, crushed garlic flakes and curry leaves. add palakura to popu and mix well.