Nimmakaya Kobbari Chutney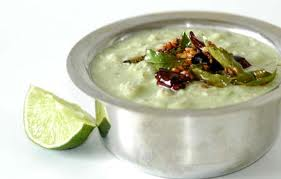 Take dry coconut,dry chilli,garlic pods and grind it, then add salt to the powder.
Make sure that you should not use water while making this powder.
Then add the lemon juice to the coconut mixture.
Now take a pan and pour oil and let it heat, then put mustard, urad dal, curry leaves and let fry till its turn in to brown color.
At last add the coconut mixture to it. Nimmakaya Kobbari Chutney is ready.