Instant Radish Pickle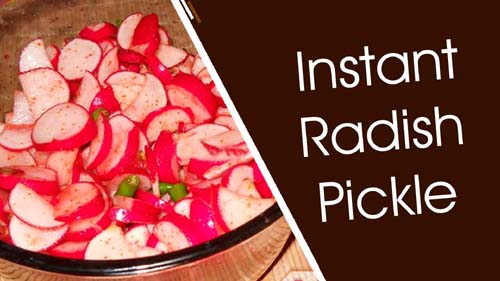 Ingredients:
* 1 medium sized radish
* 2 medium sized carrots
* 2 big green chillies
* 1/2 tsp Red chilli powder
* 1/4 tsp dry mango/ amchur powder
* 1/4 tsp turmeric
* a pinch of hing
* 1/4 tsp kalaunji
* 2 tbsp oil
* Salt to taste
Method:
First wash all the vegetables. Then peel the radish and carrot and then chop them into long thin pieces. Now sprinkle some salt, turmeric, red chilli powder, amchoor a pinch of hing and 1/4 tsp kalaunji. Mix well so that chopped vegetables are coated with spices. Now in a pan heat oil, once its hot turn off the gas and add all the vegetables to it and mix them nicely. Do not cook them we need the vegetables to be crunchy. Once it cools down you can store it in an air tight container in the refrigerator. It stays good for around a week.
..Divya