Gongura Pachadi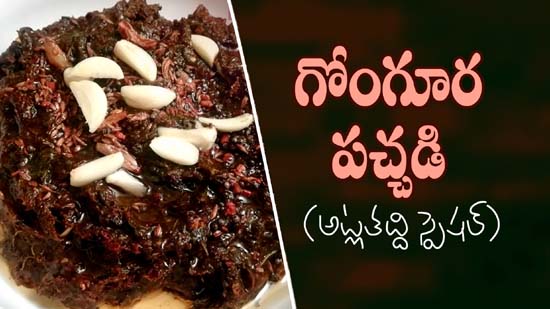 Gongura Pachadi or chutney is no doubt an "Andhra Special" dish. In olden days this used be one among other special dishes on any special occasions for Andhra People. Iam happy that thease leaves are easily available in Indian stores here.
Ingredients :
2 Cups Gongura leaves, Cleaned and Chopped finely
2tbsp Bengal Gram
2 tsp Methi Seeds (Fenugreek Seeds)
10 Dry Red Chilies
2 tsp Jeera (Cumin Seeds)
2"½ tbsp Oil
Salt to taste

Method :
Heat "½ a teaspoon of Oil and fry Bengal Gram, Methi Seeds, Red Chilies and Jeera. Remove and grind to a powder. Heat 2 tbsp Oil and add Gongura leaves and saute for 2 minutes. Now add Salt and the masala powder. Mix well. Remove and cool it. Store in air tight containers. Serve with Rice, Ghee and Roasted Dry Chilies.