Khaidi Movie Review
on Oct 26, 2019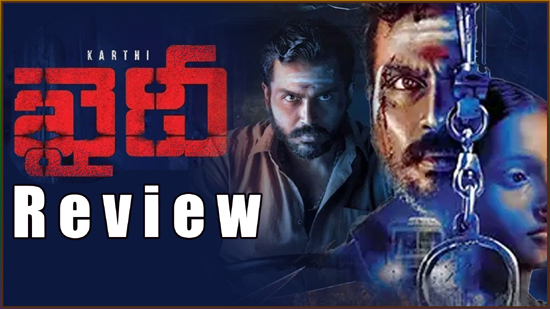 Cast: Karthi, Narain, Vijay TV Dheena, Mariam George & others
Cinematography: Sathyan Sooryan
Music Director: Sam CS
Producers: S R Prabhu, S R Prakash Babu, Tiruppur Vivek
Director: Lokesh Kanagaraj
Release Date: 25th Oct 2019

From past few days Khaidi has been creating buzz in the Telugu Film Industry. This is a unique kind of a movie with no heroine & songs. So has Karthi & this movie entertained the audience? Let us read the review.
Story:
A prisoner named Dilli(Karthi) is sentenced to life time imprisonment. But due to his good deeds, he is released after 10 years. He comes out of the jail & starts looking for his daughter. But since he seems suspicious, police take him into custody again. So is Karthi successful in meeting his daughter? Will he be released out again? Answers to all these question form the movie Khaidi.
Analysis:
The movie Khaidi has more than one story. Dilli's quest for looking after his daughter whom he has never seen before, police office chasing him, smugglers trying to escape away from the police – all these scenes look very interesting.
Almost from the 5th minute of the movie, the audience can feel the tension. Each & every scene narrated & showcased by the director is very ripping & engaging.
No one will miss seeing the songs in the movie & the entire credit for this goes to the screenplay of the movie. Director's way of adding the daughter sentiment to the movie is extremely good.
The background score of the movie provided a strong support to the director's vision.
There are very minor issues in the screenplay which can surely be forgiven
Plus points:
Gripping screenplay
Karthi's character
Daughter sentiment
Action episodes
Cinematography, background score & climax
Minus Points:
Missing romantic scenes
Preclimax, which seems a little weak
Performances:
Karthi as Dilli proved to be the best casting. He proved that, he can do a wonderful job even as a daughter's father. He will make the audience weep in the sentiment scenes.
Narain as SP was again a perfect casting. He supported the movie very well. The scenes of 10 year old Dilli's daughter with immense innocence was very nice.
All the others have done justice to their roles.

TeluguOne Perspective:
To save the lives of the policemen whose life was in danger is the humanity aspect of the movie. The sentiment of a father who wants to take care of his child is the emotional aspect of the movie. All put together this movie will surely entertain the audience.
Rating: 3.5/5
Latest News
Video-Gossips
TeluguOne Service
Customer Service
Live Help 24/7Customer Care