Know the Flower Garlands of
Sri Venkateswara in Tirumala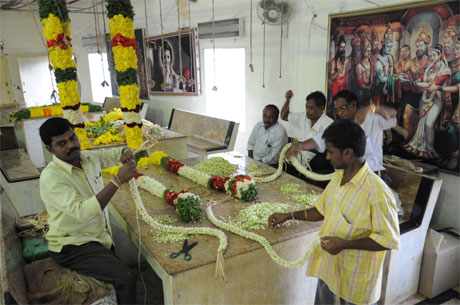 Eight special garlands for Lord Venkateswara every day
Garlands of 100 feet long adorn deity
27 varities of flowers, 7 types of aromic leafs
50-100 kgs of fresh flowers every day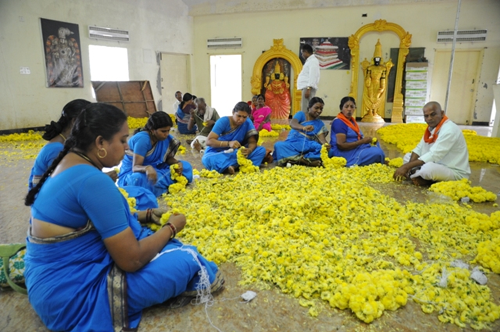 Garlands and flowers play a significant role and each one have a specific identity in the legends and lores of the Temple of Lord Venkateswara of Tirumala. It is mentioned in the 'Tiruvai Mulhi', a local purana that the celestial ruler of the seven hills was known for his love of flowers and flowery decorations at his abode throughout the year. Temple chief priest Sri Ramana Dikshitulu says that on any single day the majestic idol of the deity in the Srivari Temple is decorated with nearly 100 feet length of flower garlands. The chief priest said the garlands were made from specially cut flowers of nearly 27 varieties, and six types of aromic leafs from the gardens of the Lord Venkateswara in Tirumala. The prominent garlands adorning the deity are – Shikhamani, Saligrama Mala, Kanthasari, Vruksha Sthala Lakshmi, Shanku Chakram, Kathari saram, Tavalamulu .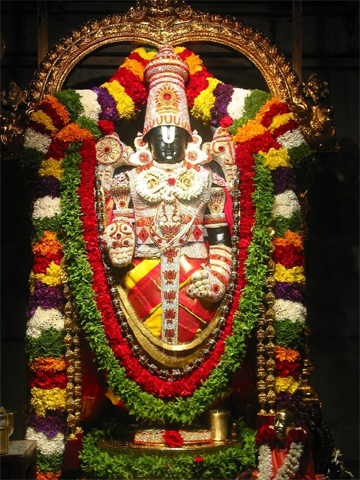 Shikhamani : The flower garland that covered the crown and along the shoulders and is about 12 feet in length in bright flowers – rose, jamine and marigold etc.
Kantha sari : Flower garlands which fall from the shoulders in both right and left directions.
Saligrama Mala : These are garlands with heavily scented flowers like roses, jasmines all along the long Saligrama necklaces that are worn by the deity from neck upto waist level . Each of the garlands are above 12 feet in length .
Vurksha Sthala Lakshmi : Flower garlands aorning the Bhudevi and Sri Devi who reside in the navel of the Lord
Shanka chakran :The flower decoration on the celestial emblems of Lord Venkateswara – Shanka and Chakram
Kthariha Saram : The flower decked belt along the waist to fit in the sword
Tavalamulu are the three long garlands that hang down from the top to bottom on the sides in three stresses. along the hands .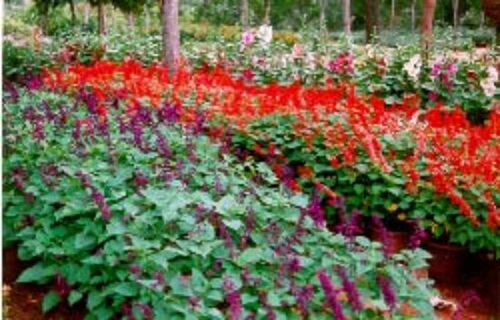 TTD maintained gardens over hundreds of acres at Tirumala to raise special rose,jasmine and marigold flowers spefcially for decoration of the main deity of Lord Venkateswara. Special aromic leafs like tulasi etc were also raised in the same gardens. An average of 525-50 kgs of gold are flowers and 5 kgs of scented leafs are used in the making of garlands and flower decorations of the the main deity and also the sanctum of Srivari temple in Tirumala from TTD gardens. Atleast 20 women make the garlands for the diety every day which is kept in air conditioned chambers in the temple complex for decoration of the deity and also the utsava idols during the festivals and rituals.