Happy Eco Friendly Birthday Ganesha!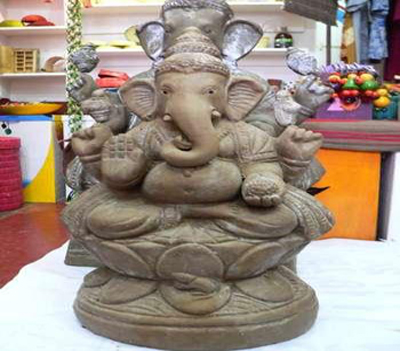 All of us know the story of the birth of Lord Ganesha. So I'm not going to repeat the story of the elephant headed god. Instead I'm going to talk about the changes that have taken place in his birthday celebrations. A festival that started off to mark the birth of the Lord, has become a major contributor to environment pollution. With each passing year the size and the number of idols keeps increasing leading to drastic increase in water pollution. Earlier the festival included activities like reading of the lord's story, doing the aarti and very few processions.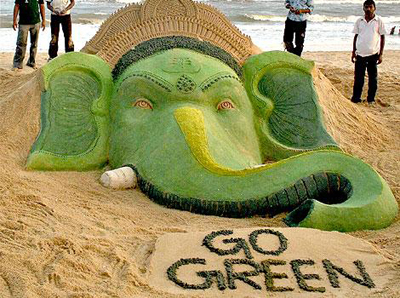 Today every household has its own procession on a large scale. The procession is accompanied by throwing chemical colors [rangoli] on the god and people in the procession, loud sounds of the drums and sometimes even fire crackers. This was not the idea of Ganesh Chathurthi either in the religious texts or the initiation by Bal Gangadhar Tilak. In fact these activities have grown to the extent that it is called the toxic festival of India. In order to remove this tag from Ganesha's birthday, there are some simple things we can do. First, we must buy clay idols of the lord which will prevent pollution when immersed. There are some people who did not choose the regular way of immersion.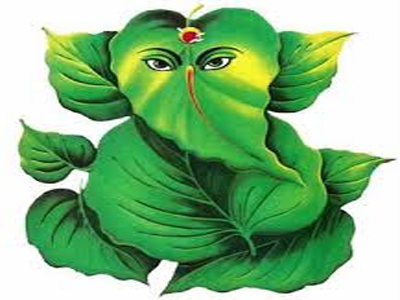 They immersed their small clay Ganesha in a bucket of clean water and later watered their plants with it. I think this is the best way to contribute the least to environment pollution. Apart from this we must remember to leave the fire crackers for Diwali and the rangoli for Holi. It is essential to maintain the uniqueness of each festival and avoid a combined celebration. If we follow these steps, we will not only keep the environment clean but also please the Lord. Don't forget to avoid seeing the moon that day.
----- Kruti Beesam

Also Read