100 Students Enrolled in TANA-SPMVV Music Courses in Dallas, TX
100 Students Enrolled in TANA-SPMVV Music Courses in Dallas, TX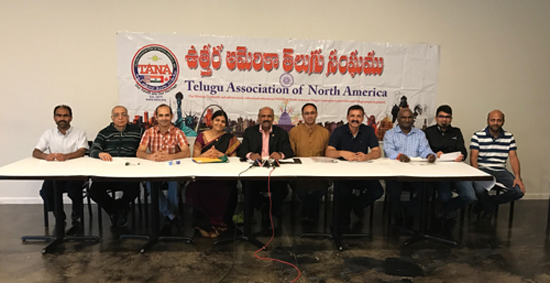 Dallas, TX: TANA President Dr. Jampala Chowdary in a press conference told that "We are pleased to announce that TANA has partnered with well reputed Sri Padmavati Mahila Visvavidyalayam (SPMVV), Tirupati, AP, India to offer advanced diplomas with majors in Music (Vocal / Instrumental) and Dance (Kuchipudi / Bharatanatyam). This is another step in TANA's efforts to preserve and propagate our culture in North America. I commend SPMVV Officials and our former TANA President, Dr. Prasad Thotakura, Chairman – TANA International Educational Affiliation for his relentless efforts to make this happen by working several months with SPMVV authorities."

Dr. Prasad Thotakura, Chairman – TANA International Educational Affiliation, stated that "It is a milestone in the 40 year history of TANA to partner with SPMVV, a university which is founded in 1983 by Former Chief Minister Sri Nandamuri Taraka Ramarao garu. Students in North America by following SPMVV curriculum can take exams in USA and qualify to get University Diploma Certificates after completion of all four levels. I personally thank Professor V. Durga Bhavani, Vice-Chancellor SPMVV, Prof. D. Sarada, Dean of SPMVV and all other Staff members for their cooperation to realize the long cherished dream of NRIs. This is a great opportunity for NRI Students to learn music and get certification from a reputed university like SPMVV. I urge all interested students to avail this opportunity and enroll immediately."

Mrs. Meenakshi Anipindi, TANA National Music Coordinator, told that "This is a great opportunity for music students to take exams in USA instead of travelling to India to get certification there by saving lot of time and money. I request all parents and music teachers across North America to encourage their children to register in Level 1 and Level 2 for this year immediately. It gives me an immense pleasure to work with TANA especially a visionary, dynamic leader, Former TANA President Dr. Prasad Thotakura to take this initiative forward."

TANA launched registration drive in Dallas (Touch Nine Restaurant Banquet Hall) on March 5, 2017 where close to hundred students enrolled on the spot enthusiastically into Level 1 and Level 2 Vocal Music Courses.

Now, the enrollment is open for NRI Students across North America. We request the interested candidates to enroll before March 20, 2017.

Dr. Prasad Thotakura and Mrs. Meenakshi Anipindi in a joint statement provided the following details:

Academic Programs: (MUSIC)

Level 1 – Diploma in Introductory Music

Level 2 – Diploma in Music

Level 3 – Diploma in Music

Level 4 – Advanced Diploma in Music

* Currently, students (only female) can enroll in to Level 1 and Level 2 Music Courses.

* Credits: SPMVV offers 12 credits per Level.

Note: We acknowledge that diplomas received by students from SPMVV will be regarded as an extra academic activity for NRI Students. Some US Universities may recognize these SPMVV Credits. So, we suggest students to check with their respective Universities when they apply for admission.

* Training: Students can learn music from any music teacher from anywhere in North America.

* Eligibility: Female Students only since this is Women University. Minimum age to enroll in SPMVV courses is 10 years and there is no upper age limit.

* Fees: Total $300 per each Level including Examination Fees

* Examination: The skills of students at the end of the Level 1, Level 2 and Level 3 will be determined by TANA National Music Coordinator and her team.

* Final Examination: For Advanced Diploma (Level 4) - The SPMVV Officials will personally visit USA to review and qualify students' skills in Theory and Practical to award Advanced Diplomas to eligible graduate students in a formal Convocation in USA.

* Qualify: Attaining 45% marks is minimum to "Pass" the course and 70% is considered as passing with "Distinction".

* How to apply? : Please visit www.tana.org for Enrollment Form and complete the process as specified.

For more information – Please visit www.tana.org or contact:

* Mrs. Meenakshi Anipindi, TANA Music National Coordinator at tanamusiccoordinator@gmail.com

* Dr. Prasad Thotakura, Chairman - TANA International Educational Affiliation at 817-300- 4747 or tanaieachair@gmail.com

* Dr. Chowdary Jampala, TANA President at 937-475- 7809 or president@tana.org

Dr. Prasad Thotakura thanked Mrs. Meenakshi Anipindi, a longtime resident of Dallas, an alumni of SPMVV, an A grade All India Radio artist, one of the renowned singers in North America for accepting to be a National Coordinator of this project.
Mr. Srikanth Polavaparu, TANA Regional Representative, Dr. Rajesh Adusumilli, TANA Joint Treasurer, thanked SPMVV officials, students for enrolling in large numbers, the management of Touch Nine Restaurant, and media for covering the event.