Lord Shiva As The Kailasanathar
In Kanchipuram !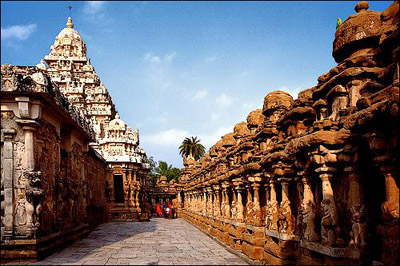 This week we are in Tamil Nadu again to seek the blessings of Lord Kailasanathar, a form of Lord Shiva himself. The Kailasanathar Temple is located in Kanchipuram and is one of the oldest temples among the 2,500 Shiva temples in the state. It was built during the period of 685 AD to 705 AD, first by king Rajasimha and then by his son Mahendra Varma. They belonged to the Pallava dynasty. The temple was built in the Dravidian style of architecture, with paintings portraying Lord Shiva and Goddess Parvati in various dance positions.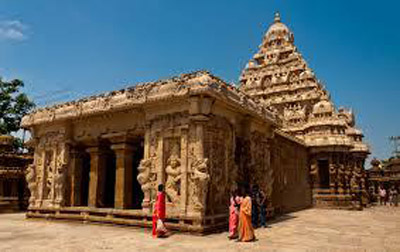 There are 58 other temples that are smaller than the Kailasanathar Temple in the same complex. Each temple hosts Lord Shiva in a different form. It is said that this temple served as a shelter to the king at the time of war. The old priest in the temple performs pujas for visitors and takes them through the history of the temple without demanding any fees.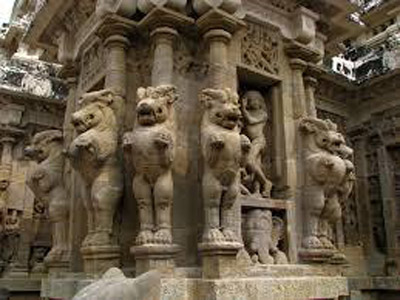 Coming to the main shrine of the Kailasanathar Temple, visitors first take darshan of the huge kneeling Nandi at the entrance and then proceed to seek blessings of Lord Shiva. Here he is found blessing his devotees as a 16 sided lingam built in black granite stone. The temple is the popular destination of all those parents who want to begin feeding regular cooked food to their infants.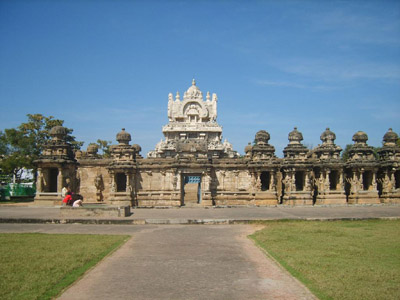 It is called the Annaprasanam ceremony. During this ceremony, the child is shown the moon and the cow. This is a practice used not only to get the child to eat, but also because it holds some religious significance. It is believed that the child will get the blessings of the Jaladevatha [God of Water] and Oushadi devatha [God of Medicine] by this act. These Gods will protect the child from cold and sickness respectively. The Kailasanathar Temple is one of the very temples in India where an entry fee is not collected. Visitors are also allowed to take photographs but only outside the main temple. So, if you ever plan to visit the Kailasanathar Temple, don't forget to capture the sweet memories spent with your family and friends.
…..Kruti Beesam