granddaughter of Gandhiji, pays tribute at Gandhi Memorial in Dallas
granddaughter of Gandhiji, pays tribute at Gandhi Memorial in Dallas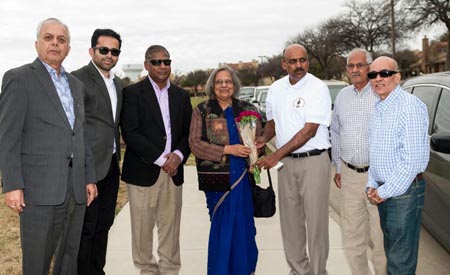 Dallas, TX: Mrs. Ela Gandhi, 76, granddaughter of Mahatma Gandhiji visited Gandhi Memorial Plaza in Dallas (Irving City) on February 13th to pay rich tribute to Gandhiji.
Mr. Rao Kalvala, Secretary of Mahatma Gandhi Memorial of North Texas (MGMNT), welcomed Mrs. Ela Gandhiji, explained the prominence, the community support and the hard work went in to realize the dream of the community to have this largest Gandhi Memorial in the USA in the heart of the DFW metroplex.

Dr. Prasad Thotakura, MGMNT Chairman while introducing the Chief Guest stated that "it is an historic moment to see granddaughter of Gandhiji to pay rich floral tribute to Gandhiji here at Gandhi Memorial in Dallas. We appreciate Mrs. Ela Gandhi for continuing Gandhiji's legacy by spending a lot of time in the community as social worker, serving as an executive member of the Natal Organization of Women, serving on Natal Indian Congress as Vice President and as a Chair of Salt March Committee and also as a Member of Parliament in South Africa".
Mrs. Ela Gandhiji, daughter of Mrs. Sushila and Mr. Manilal Gandhiji lives in Durban, South Africa along with her family members. She was bestowed with Padma Bhushan Award from the Government of India in 2007 and Community of Christ International Peace Award in 2002.

Mrs. Ela Gandhi in her message appreciate the efforts of MGMNT, the community and the City for having such a beautiful memorial in Dallas. She advised to the community to follow the principles of Gandhiji and try to inculcate the same in the next generation. She emphasized Gandhiji's value foundations of society – Truth, Nonviolence, Love, Compassion, Respect and Equality are ever applicable and in all continents.

Mr. Salman Farshori, MGMNT Treasurer, in his closing remarks thanked the community for attending the event, Elaji for visiting the Gandhi memorial to pay rich tribute to Gandhiji and assured that the community follow the principle of Gandhiji. He further thanked TV 5 media, Bombay Photography, Music Masti Magic and Venky for their help and support to make the event successful.


MGMNT Board of Directors Taiyab Kundawala, Jack Godhwani, leaders from IANT and IAFC namely Sury, Hemanth, Tanvir, Benzir Arfi, Dr. C. R Rao, Prof. Niranjan Tripathy, Prof. Ritu Khanduri, Dr. Viswanadham Puligandla attended the event to pay rich tribute to Gandhiji along with several other community members.