NATS DC Metro Chapter's Balalasambaralu a Grand success
NATS DC Metro Chapter's Balalasambaralu a Grand success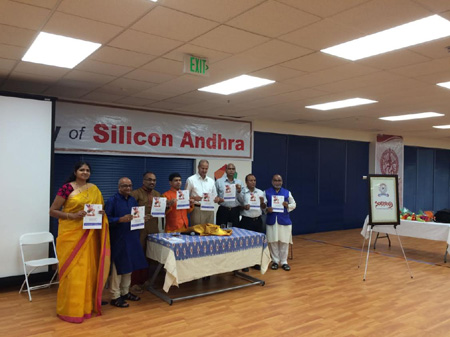 On Sunday, November 16 2014, with an exciting environment created by more than 200 children with packed auditorium with 1000 audience, at Eleanor Rosevelt High school, NATS officially celebrated Balala Sambaralu in Washington DC area. Ravi Achanta-President NATS, Mohana Krishna Mannava,- VicePresident NATS, Ranjit Chaganti-NATS NJ coordinator, other NATS leadership, Swami Chidatmanandji-Chinmaya Mission, Rao N Linga-Greater Washington Telugu Cultural Society, Asim Mishra-Chief of Staff at the Corporation for National and Community Service (CNCS), Sekhar Narasimhan- Member of the President's Advisory Commission for Asian Americans and Pacific Islanders , Pavan Bejawada- commissioner for governor's commission on south east Asia and current DC chapter committee members of NATS has graced and Lead the event in style. NATS Board and Executive leadership sent their wishes to the DC metro chapter team. Many dignitaries and community leaders have graced the event to show their strong support for this children's event, which was exclusively led by the youth. NATS DC Chapter recognized and honored community leaders Mrs. Krishanveni Vedula Sarma and Dr. G.V.V Rao for their selfless services to the children. Classical dances, singing, tollywood and Bollywood dances were showcased by the youth.

Competitions were conducted in essay writing, painting and art work. NATS Children's day celebrations in Washington DC were overwhelmingly grand success. The DC team Lakshmi Linga, Jayashree Pedhibotla, Vanisobhan, Madhavi Doddi, Jyothi Basavaraju, sanjeevnaidu; Srini rampalli,Harika Pedhibotla,sandeeplinga,Radhika Guntur,kavitha yanigandla,Ashok Anmalsetty, Jyothi boppana, Desai Sidhabathula, Giri Reddy,Amar. modalavalasa,Subbarayudu Jakkampudi, Swathipenugonda, Annapurna Venuthurupalli, Prasad Yaniganlda, Mekhla Stanton, Padmini Nidumolu, and Nanda worked very hard to make this event a memorable one for the children, youth and adults and they thanked all the community for their support.

The energetic team promised to bring more creative projects and especially work for the next generation youth and strongly support NATS vision…"Be the premier service-oriented national Telugu organization in North America". The event ended with scrumptious lunch provided by Minerva Restaurant and the day ended with a positive and energetic spirit.