Home » Beverages » Fruit salad with custard
Fruit salad with custard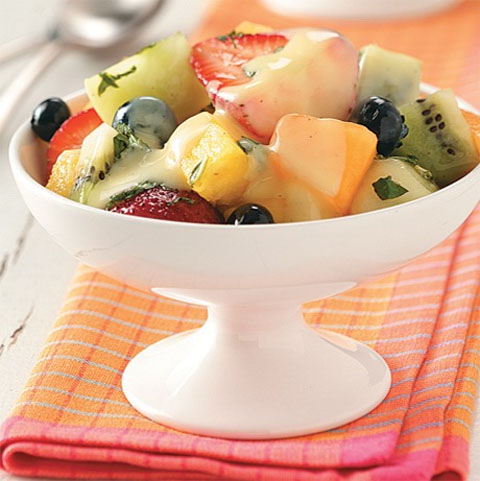 Ingredients

6 kiwis, peeled and chopped
1 quart strawberries, hulled and quartered
2/3 cup sugar
2 tablespoons unsalted butter, softened
2 ripe mangoes, peeled, cored, and sliced
1 melon, peeled, cored, and chopped
1/2 teaspoon vanilla extract
6 large egg yolks
1 quart blackberries
1/2 quart blueberries
Custard:

1 1/2 cups whole milk
1 1/2 cups whole milk
2/3 cup sugar
6 large egg yolks
2 tablespoons unsalted butter, softened
1/2 teaspoon vanilla extract


Directions

In a medium saucepan over medium heat, whisk milk and sugar constantly.
In a medium bowl, whisk together the egg yolks. Slowly incorporate the hot milk into the egg mixture. Return the mixture to the saucepan. Heat the custard over low heat about 5 minutes or until thickened slightly, stirring constantly. (It should be thick enough to coat the back of a spoon. Do not let the mixture come to a simmer or the eggs will curdle.)
Remove from heat and melt the butter into custard. Add vanilla. Immediately strain the custard into a small bowl. Place in refrigerator to cool.
Drizzle over fruit and serve.
Disclaimer:
All content included on this TeluguOne.com Portal including text, graphics, images, videos and audio clips, is the property of ObjectOne Information Systems Ltd. or our associates, and protected by copyright laws. The collection, arrangement and assembly of all content on this portal/ related channels is the exclusive property of ObjectOne Information Systems Ltd. or our associates and protected copyright laws.
You may not copy, reproduce, distribute, publish, display, perform, modify, create derivative works, transmit, or in any other way exploit any part of copyrighted material without permission from ObjectOne Information Systems Ltd or our associates.