Candlelight Vigil held in Sacramento California to pay honor to the Pulwama terrorist attack victims
Over 200 Indian Community members living in Greater Sacramento under Indian Association of Sacramento (IAS) gathered on Wednesday February 20th, 2019 at 7PM, to pay tribute to martyred soldiers of recent Pulwama terrorist attack in Jammu & Kashmir, that left at least 44 Central Reserve Police Force personnel dead.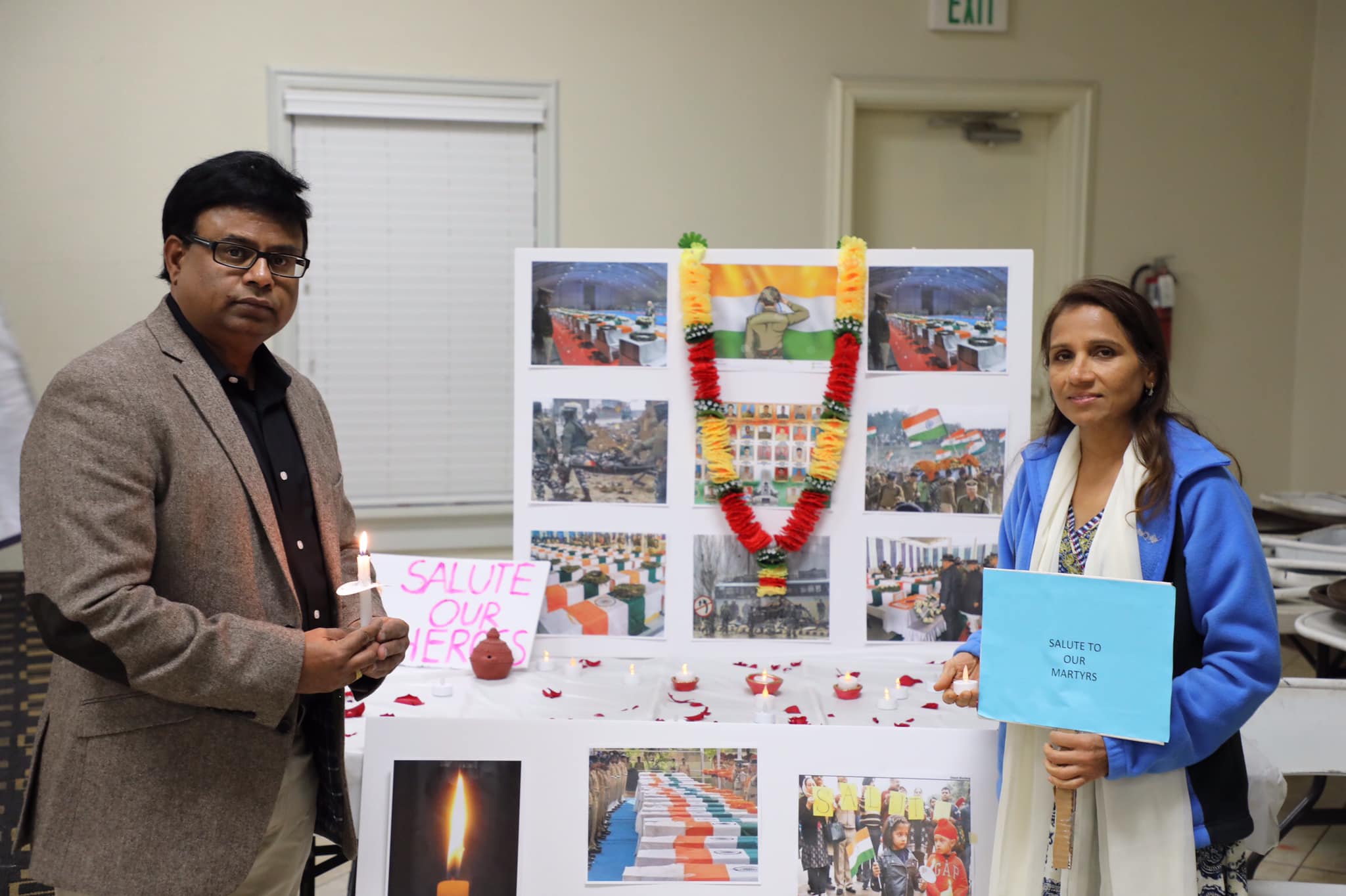 Members of the Indian community gathered at local Lakshmi Narayan Mandir in Sacramento, California to peacefully protest the attack and to show solidarity with families who lost their members in the attack. This Vigil event began with Indian & US national anthems. Sacramento local singers Namrata Kemchandani and Meera Ramakrishnan sang Indian Patriotic songs and Bhajans. Pictures of martyred soldiers & Patriotic poster signs which were made by Volunteers were displayed in the hall.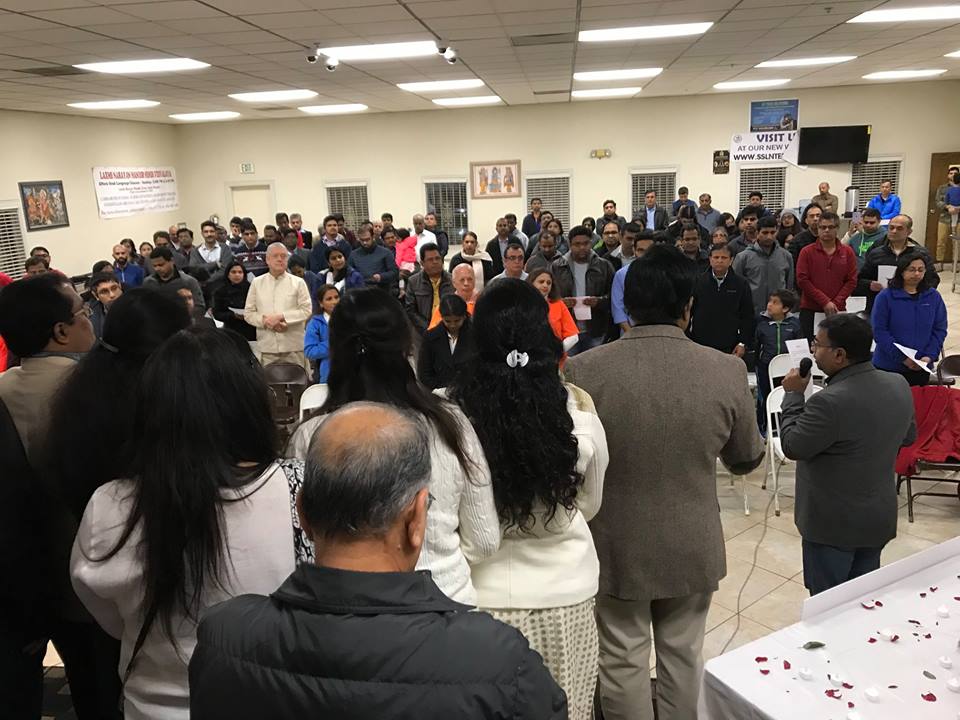 One of the guest speaker Sue Frost, Sacramento County Supervisor said, "tonight I attended a Candlelight Vigil sponsored by the Indian Association of Sacramento - and stood in solidarity with my fellow Sacramento Region Citizens and TOGETHER WE RECITED A PLEDGE that ended with...'We, the citizens of Sacramento, hereby pledge that we denounce the terror in any format, in any part of the world'. It was a beautiful tribute to the honor the soldiers in the Pulwama terrorist attack by the Jaish-e-Mohammed group, in which over 44 CRPF personnel were killed and many others injured. Honestly... Words don't come close to expressing the sorrow. Tonight, I am reminded of how lucky I am to live in America, the land of freedom and opportunity. I am grateful that I feel safe in my daily life. I pray for our friends in Pulwama".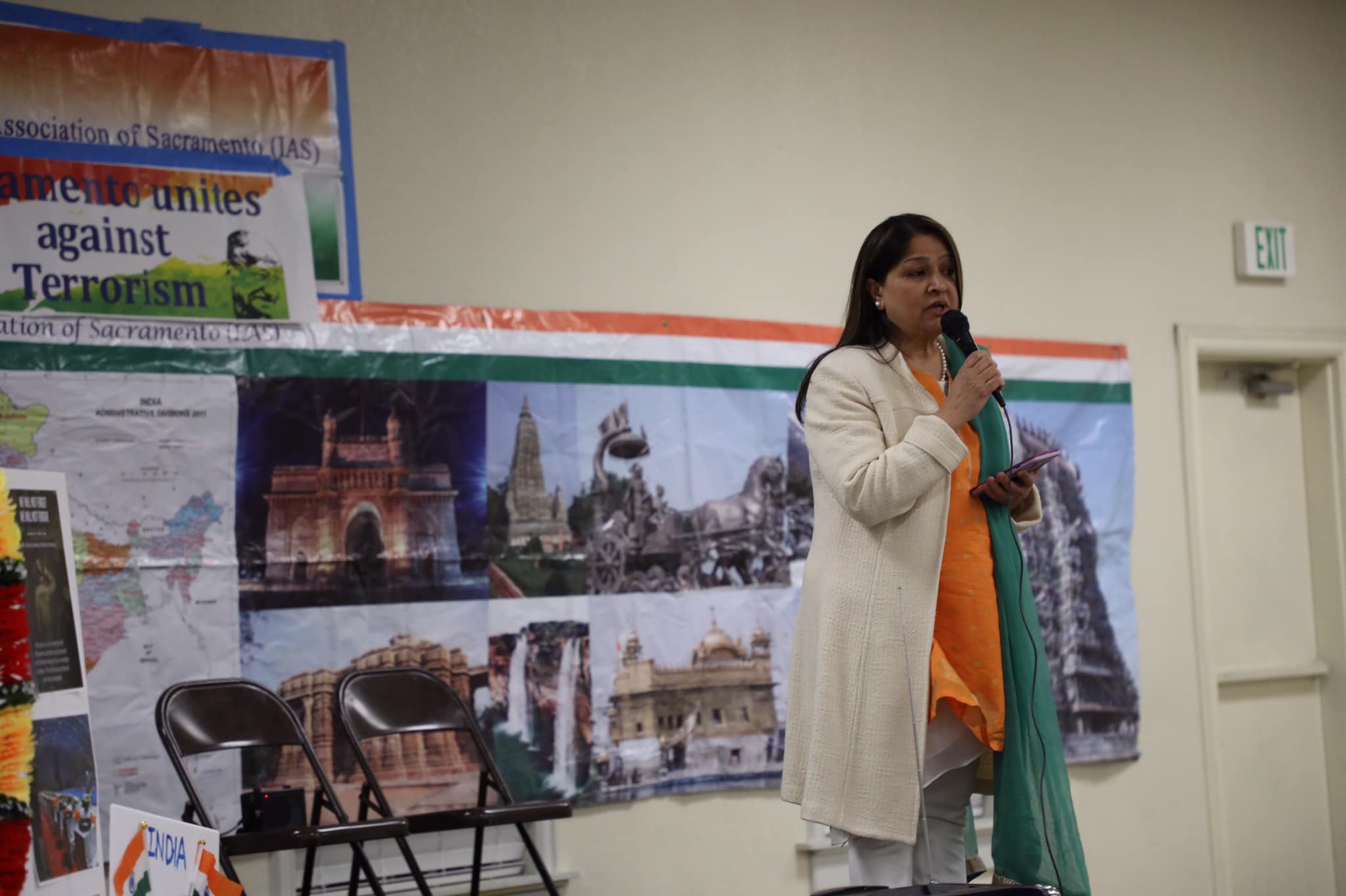 Another guest speaker Susan McKee, OCA Board of Director called for unitedly standing against terror, and conveyed words of comfort and support for the martyrs, their families & local Indian community.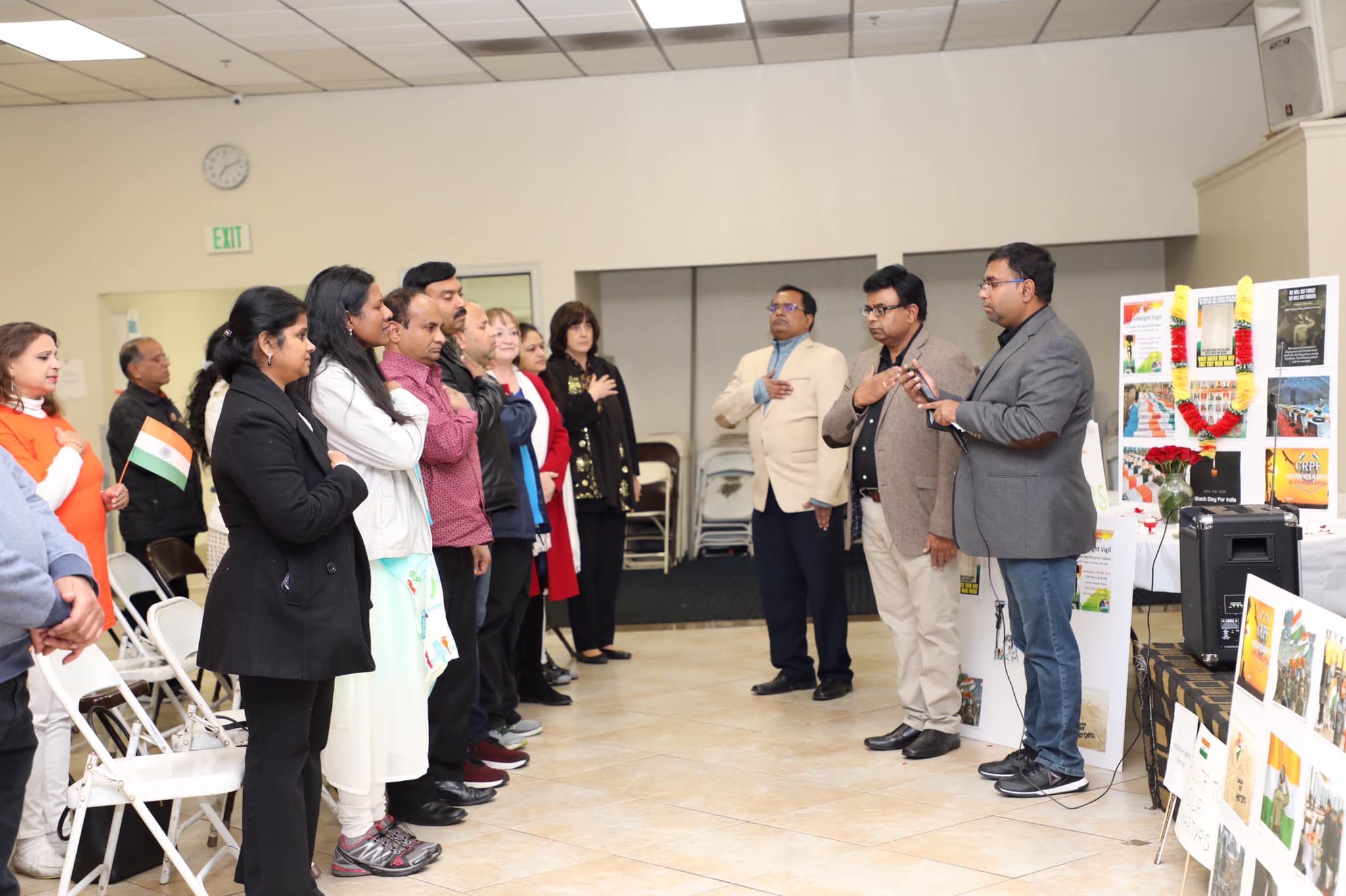 Here are some of the words heard from our people in Sacramento...
Be a living example of exemplary character.
I stand in solidarity with Soldiers.
There is a special place for the 44 souls who dedicated their lives while protecting others.
We salute our martyrs and their Families. Jai Hind.
We call on all United Nations Countries to condemn Pulwama terrorist attack.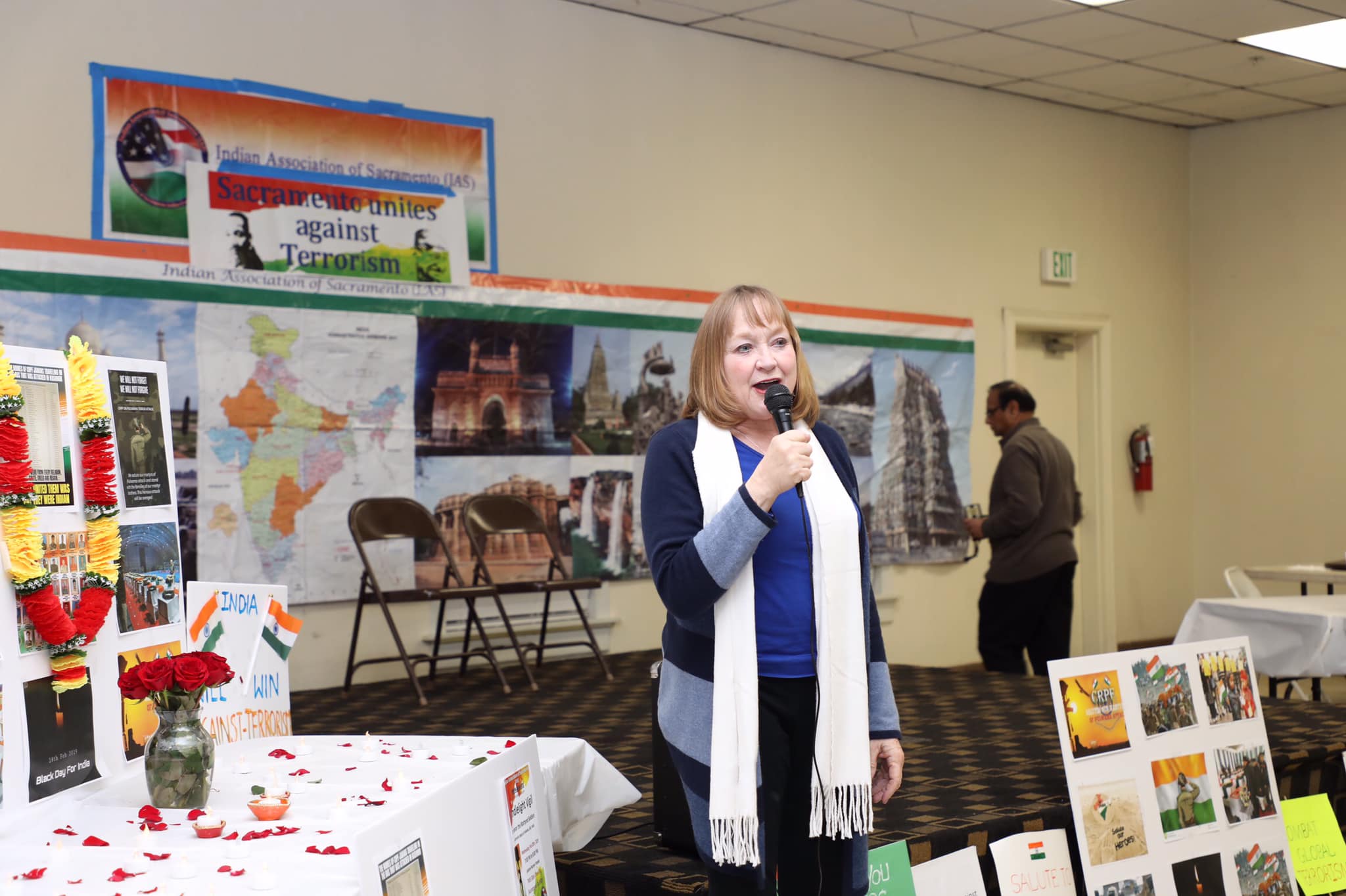 Another guest speaker Dr. Firdos Sheikh said "I wore the tricolor in honor of Indian soldiers. They continued to protect our country. While we were thousands of miles away. Scattered broken bodies broke my heart. How helpless to watch the innocent slain so mercilessly? Prayers. And heartfelt condolences. May peace consume every being. Across the globe".
Smt. Sumati Rao, Consul (Community affairs, Information & Culture) from Consulate General of India, San Francisco too attended this event and conveyed words of comfort Mr Easan Katir from Hindu American Foundation strongly condemned the terror attack, hoped peace will be restored soon and said "Destabilizing the region is bad".
Mr. Inder Kaw, Kashmiri Pandit introduced "My Frozen Turbulence in Kashmir Book written by Jag Mohan - Past Governor of Jammu & Kashmir" to the audience and he encouraged everyone to read to this book to get good perspective of the history.
Other Speakers included Dr. Bhavin Parikh - IAS President, Rao Duriseti - IAS Vice-President, Panduranga Itagi & Tushar Sashittal from HSS, Venu Acharya from Annapoorna USA Foundation, Anupriya Ramraj, Chair, IAS Board of trustees. IAS Board Members & guests took pledge to denounce the terror in any format, in any part of the world. Then, everyone light up candles to honor martyred Soldiers and chanted " Vande Mataram. Bharat Mata ki Jai Ho. Jai Hind"
Shivesh Sinha, Joint Secretary of IAS said, to date more than 60 of USA congressmen, senators, assembly men have condemned the Pulwama terror attack. has moderated the event. At the end, IAS President Dr. Bhavin Parikh thanked all speakers, volunteers and guests for making this vigil & tribute more meaningful.