Tricep Bench Dips for toned arms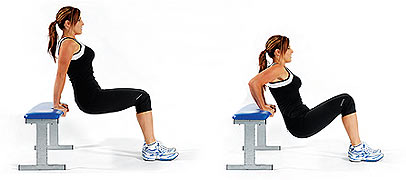 Summer means sleeveless tops and when you wear them we also expect toned arms that go with it. Apart from your regular exercise for the hands the Tricep Bench Dips are an excellent way to tone your arms from flab to fit.

How to do it

1. Sit low on the bench making sure that your knuckles are facing your back as you grip the edge.

2. Slowly walk your legs forward until your thighs are parallel to the floor keeping your feet flat on the ground.

3. As you inhale, lower your body until your upper arms are almost horizontal, then exhale as you bring yourself back to your starting position.

The best part is you can even do it using a chair while at work or at home!