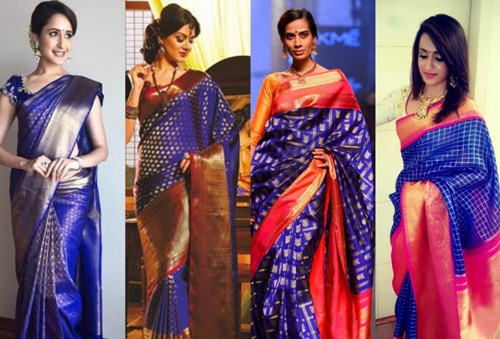 When we think of "Sravanamasam" which is a wedding season for all the south Indians, this month is also known for "VaraLakshmi Vratham" where every South Indian woman/ girl would love to pamper herself with right costumes and jewellery.
And ofcourse, Kanjivarams are one of its kind which are eternal favorites of every saree loving woman. These are stunningly gorgeous hand-woven sarees, which are must have in every sounth Indian bride's/ lady's wardrobe. Though they are being heavy, Kanjivaram sarees tend to have a slimming effect, as they drape wonderfully, given the awesome fall and fluidity of their woven material. That's the reason this has become the choice of mnay brides during their big day. Kanjeevarams have huge range right from 8000 to more than 1 lakh as the weave gets finer.
Because of its quality and grace Kanjivarams are super fashionable and in-vogue right now and are absolutely traditional, yet have a modern appeal. They are so many saree shops and online stores released their Kanchi saree collections for the season and these sareees can be worn with heavy blouse for brides and simple ones for the rest. They are available in self "zari"baorder and also with contrast boarders which are suitable for all the age groups.
Kanjeevarams are equally beautiful when paired with sleeveless blouse and also crop tops . Beauty of the saree enhances the way you drape and the way you accessorize. That's the only reason why most of the celebrity ladies are wearing these sarees for evening parties, public gatherings and along with weddings.
So, as per the fashionista, adding Kanjeevarams to your wardrobe is a very good buy for the season. Go for it girls.