Spicy Paneer Dosa Recipe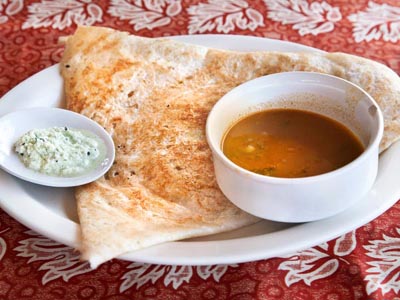 Ingredients
* 1 cup dosa batter
* Salt to taste
* Butter
* 200 gram paneer - roughly crushed
* 2 big onion - finely chopped or grated
* 1/2 cup cabbage - finely chopped or grated
* 1 big tomato - finely chopped
* 1 capsicum - finely chopped
* 5 to 6 green chilies - finely chopped
* 1/4 cup tomato sauce
* 1 tea spoon garlic paste
* 1 tea spoon ginger paste
* 2 tea spoon soy sauce
* 1 tea spoon red chilly powder
* 1 tea spoon garam masala powder
* 2 table spoon oil
* 1 table spoon greens of spring onion.
Preparation
* Heat oil in a pan and add onion in it, fry till light brown. Now add green chilly and ginger, garlic paste fry for a minute.
* Add cabbage, tomato and capsicum and cook for 1 minute. Add all sauces and spices and mix well.
* Now add paneer to it. Sprinkle greens of spring onion.
* Mix well, Mash if needed.
* In a non stick tavi - griddle spread dosa batter and let it cook. Spread stuffing over it and fold it. Garnish with butter.
* Serve hot and tempting Spicy Paneer Dosa with sambhar and coconut chutney.