Bisi Bele Bath and Samosa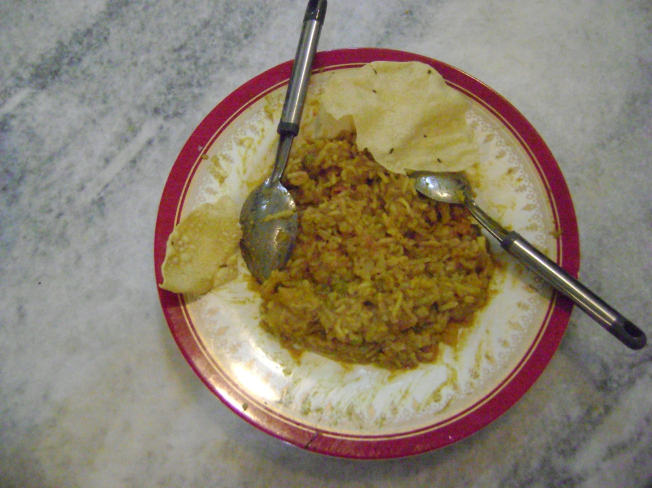 Ingredients
(for 30-40 samosas)
* Potatoes (4-5 big ones)
* 3 small Bay Leaves
* Green Peas (About one bowl full)
* Desi ghee (2 teaspoon)
* 7 Green chillis
* One small slab of ginger (to know the measurements m talking about, look at your index finger. The slab should be as long and as wide as the first 1/3rd of your finger)
* 2 bowls full of maida
* 1 teaspoon oil
* Black pepper (half a teaspoon)
* Garam Masala (half a teaspoon)
* Salt (to taste)
* Aamchoor (Dry mango powder) (1 teaspoon)
Preparation
* Take Maida. Add 1 teaspoonfull of oil and salt (according to taste) to it. Make a hard dough. Try using as little water as possible. After it is done, keep it aside. Make sure you keep it in a closed vessel, else it starts to crack!
* Boil potatoes and mash them so that no lumps can be seen.
* Boil Green Peas and strain away the water.
* Crush the green chillies and ginger together. Keep aside the paste.
* In a pan, add 2 teaspoonfulls of desi ghee. Add bay leaves to it.
* Add mashed potatoes, green peas, Ginger-Chilli paste, Aamchoor, Salt, Garam Masala, Black Pepper to it and mix it well. Once done, leave it for a half an hour for it to cool down.
* Put some oil in a pan (oil should be sufficient to deep fry the samosas). Put it on low flame.
* Now, roll out thin-round chapatis of the maida dough.
* Use a knife to cut the round chapati from the center and make two semi circular shapes.
* Take one semi circle, join the line that runs along the diameter, so that its apex is at the center of the semi-circle! Please refer to the pic if confused.