Mango Lassi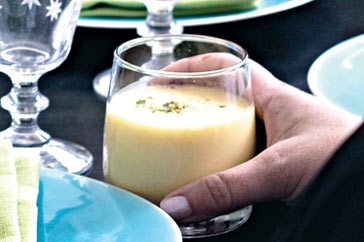 Ingredients
2 frozen mango cheeks, coarsely chopped
390g (1 1/2 cups) Greek-style natural yoghurt
1 1/2 cups crushed ice 560ml
(2 1/4 cups) cold water
2 tsp caster sugar
1 tbs finely chopped unsalted pistachio kernels
Preparation
* Place half the mango, half the yoghurt, half the ice, half the water and half the sugar in the jug of a blender. Blend for 40 seconds or until smooth.
* Pour the mango mixture among half the serving glasses. Sprinkle with half the pistachio.
* Repeat with the remaining mango, yoghurt, ice, water, sugar and pistachio. Serve immediately.