Start Holi with Thandai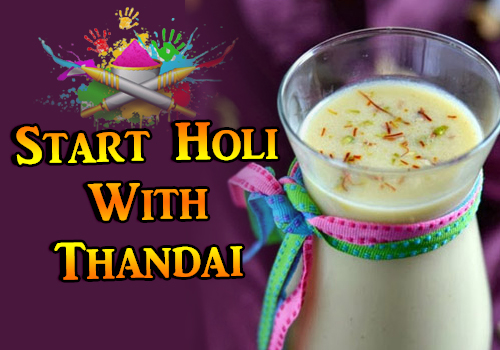 There is no Holi without Thandai! Guests are greeted with this customary drink when they come to a Holi party apart from the Gulaal colours . Pints of Thandai are mixed and served to the people as it works as a coolant with all the spices and dry fruits in it. It is served throughout the bash and in fact if you are game for some fun you could spike it with a little bhang for the extra fun and watch your guests go wild…
The original Thandai recipe is a lengthy process and to cut short time we are giving you a quick and easy recipe to make at home with easily available ingredients.
Preparation time: 5-10 minutes
Ingredients:
-> 1 1/2 litres of full cream milk
-> 250 gms Condensed milk
->10 almonds, soaked overnight & peeled
->Few pepper corns as per taste
->4 cardamoms, crushed,
->2 tsp fennel seeds (saunf),
->1 tsp poppy seeds
Few ice cubes, crushed dry fruits chopped coarsely for garnishing and few rose petals
Process:
1. Grind the peeled almonds, cardamom and fennel seeds to a fine paste.
2. Mix this paste with the Milk and add condensed milk at the end and stir well. You could strain it or if the paste has been finely grind-ed you could drink as it is.
3.Pour it in a glass, add crushed ice, garnish with dry fruits & rose petals and Serve. You could also serve them in shot glasses for fun.