Easy to Make Pizza Pockets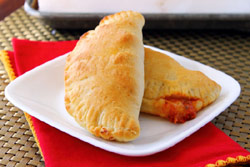 Kids love pizzas and thats proven...most of us agree...in that case, why not make pizzas and similar stuff at home instead of buying from outside. Pizzas and similar stuff means, the pizza pockets we are going to learn about today....these look like semi-circular samosas but taste like pizzas. Make sure you check the temperature inside these pockets before your child bites one...they are super hot.
To make 4 pizza pockets, we need:
Almost 1/2 kg or 1lb readymade pizza dough ( not pizza base)
1/2 medium onion
1 ripe tomato
Few basil and coriander leaves
1-2 garlic cloves, minced
Pepper powder and salt
2 cups Mozzarella cheese
2 tbsp Parmesan cheese
Olive oil for cooking
Unbleached all purpose flour for rolling the dough
Procedure:
Heat a pan for making the veggie stuffing. Pour 1 tbsp of olive oil and add onions and garlic. Once they are translucent, add tomato pieces and cook..this mixture can be saucy or well cooked in cubes. Add a dash of pepper powder and salt to taste. Garnish with basil and coriander leaves and stop cooking. Keep aside.
Preheat the baking oven at 400F. Make four equal parts of the pizza dough and roll them into chapathi shapes but not so thin. On one half circle, sprinkle mozzarella cheese liberally And top it with the veggie mixture. Cover this part with the other half and crimp the edges like we do fr samosas to lock the stuffing in. On a baking sheet, place each pocket and drizzle on top with olive oil and sprinkle some parmesan cheese. Bake for 12-15 minutes until golden brown crust. You can add your favorite ingredients and customize the stuffing. Serve carefully to the little guys...these pizza pockets are piping hot !!
-Prathyusha