Ginger Pickle(Allam Pachadi)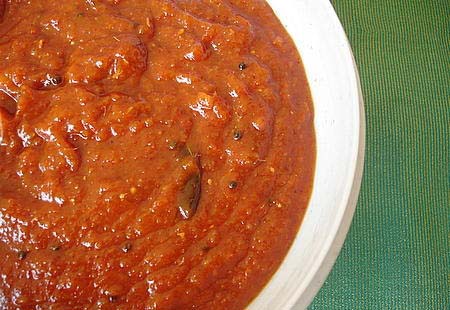 An innovative chutney recipe, allam pachadi or ginger chutney with shredded ginger blended with oil, salt, spices and other spices is an amazing accompaniment to meals or snacks.
Ingredients:
Ginger - 250 gms
Red Chilli Powder - 1 tea cup ( 125 gms )
Tarmarind - 250 gms
Jaggery - 250gms
Garlic - 2
Salt - to taste
Red Chillies - 5
Mustard Seeds - 3 tbl spoons
Chana Dal - 3 tbl spoons
Urad Dal - 3 tbl spoons
Curry leaves - 3
Fenugreek Seeds - 2 tbl spoons
Oil - 200 gms
Method :
1. Wash Ginger and peel ginger and cut into pieces.
2. Add hot water in tamarind and take that as thick juice.
3. Now ginger pieces, tamarind juice, 1 full garlic, jaggery pieces, fenugreek seeds, red chilli powder, salt and grind it.
4. Take Pan add oil in that and heat it. Now add mustard seeds, chana dal, urad dal, 1 full crushed garlic cloves, red chillies, curry leaves and fry it.
5. Now add grinded ginger mix to this.